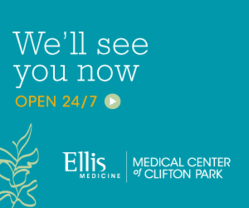 Troy, NY (PRWEB) October 29, 2012
Ellis Medicine's new Medical Center of Clifton Park opened to the public today, announced by a new marketing campaign titled "Neighbor2Neighbor Conversations."
Created by healthcare marketing agency Smith & Jones, the campaign features Saratoga County residents who are happy to have the new 24/7 emergent care facility, with the expertise of Ellis Medicine physicians, so close to home.
"Saratoga County has been the fastest growing area over the last seven or eight years and it's never been taken care of by healthcare," said Angelo Mazzone, a restauranteur from Rexford, NY. "Ellis was the first one to do it."
Jennifer Curtis, a mother from Ballston Lake, NY, is looking forward to having the facility in town in case one of her children gets hurt. "Playing tennis, swimming, all the different things that they do all come with risk factors and knowing that I'll have a place that is five minutes away to deal with a broken bone or stitches is so reassuring," said Curtis.
These patients, along with Sharon DeChiro of Mechanicville, NY and Gene and Sue Zeltman of Clifton Park, NY, have web videos on the Ellis Medicine website, are in a television commercial, and are featured in Facebook advertisements.
This multi-channel advertising campaign also uses print ads, online display ads, posters and transit advertising using the taglines "Hi neighbor" and "We'll see you now."
"Time is of the essence, and being just that much closer to a major care facility I think is very important for the community," said Gene Zeltman.
To learn more about the Ellis Medicine Medical Center of Clifton Park, and to watch patient and physician videos, please visit http://www.ellismedicine.org.
About Ellis Medicine
The Ellis Medicine hospital system provides acute care for Schenectady County and a diverse community of 150,000 people located just west of the state capital in upstate New York. Learn more at http://www.ellismedicine.org.
About Smith & Jones
Smith & Jones is an advertising and brand strategy agency based in Troy, NY, that specializes in marketing for hospital systems and large physician practices. Learn more at http://www.smithandjones.com.