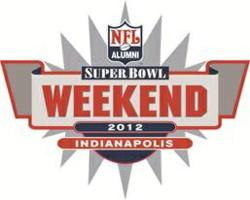 its like being twelve again for me, I can only imagine how Adam and Robert must feel
Las Vegas, Nevada (PRWEB) January 29, 2012
Global Maximus Records Announces that Country Music Recording Artists 'BadHorse' will be performing during the upcoming 2011 NFL Alumni 'Player of the Year' Awards Show.
The ceremonies are scheduled for a "Live" taping this Friday February 3, 2011 from Indianapolis and part of the Super Bowl XLVI NFL Alumni Weekend experience. The group will perform two songs in front of the 'live' audience attending the festivities.
The surging 'BadHorse' will be performing "Live" as part of the NFL Network televised event in front of a world audience for the first time. The broadcast is scheduled to air on February 6th at 10pm eastern on the NFL Network.
"We are proud of 'BadHorse', they deserve this opportunity. The band has stayed the course and they have arrived. it's time to rock the place 'Badhorse' style and it is an honor number one to play for this legendary event with such legendary figures all around. It is like being twelve again for me so I can only imagine how Adam and Robert E must feel." states Randall James, President of GMR.
The rising country music stars have been coming into their own as of late with activities ranging from movies, music videos and recording new singles. Singles like the current #5 Hit on the Country Inspirational Charts with "I still love them" considered to be one of the top inspirational releases of 2011.
We should also mention the new hit single "It's All Good" which is recently ranked nicely on multiple country music charts including reaching #1 on New Music Weekly Magazines Charts, the third in a row following 'Mississippi Rain' and 'Little Man'. Not a bad start for the emerging country music stars from outside Atlanta.
The television performance will largely provide proof to the world that 'BadHorse' provides the quality country music fans around the world appreciate and love to follow. Global Maximus Records has also positioned the group as the featured artists of the month as part of a new consumer rewards programs that will provide mass audiences to 'BadHorse' singles and EP releases so stay tuned.
The group is scheduled to perform at multiple major events in 2012 including an upcoming music festival in south Florida. The group will be one of the featured artists in support of a very worthy cause in curving teen texting and driving.
If you would like more information on the NFL Alumni event and all all other news surrounding 'BadHorse' please visit http://www.NFLAlumni.org http://www.MusicatGMR.com or http://www.Badhorsemusic.com.
# # #