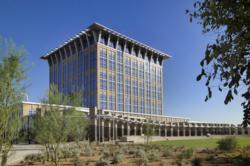 We designed the North Las Vegas City Hall and Civic Plaza to solve the problems of today and serve the community of tomorrow.
North Las Vegas, NV (PRWEB) May 30, 2012
Fentress Architects' North Las Vegas City Hall and Civic Plaza has been named 2012 Public Works Project of the Year by the American Public Works Association (APWA). Completed $17 million under budget in 2011, the project was chosen because of the outstanding construction management techniques it employed and its environmental sensitivity.
The result of a downtown revitalization effort, North Las Vegas' new City Hall successfully consolidates the city's departments into a one-stop-shop offering convenience, efficiency and ease of navigation for both city staff and residents.
Design for the Region | Deriving inspiration from traditional civic architecture, Fentress Architects applied classic rhythms, a tripartite massing, and traditional materials on the design of the City Hall. Using context to create identity, the design's color palette borrows from the native desert environment for its sand colored granite and the sunny climate for its blue sky glass. The nine-story building with its cantilevered cornice is a visual beacon and catalyst for downtown revitalization.
"We designed the North Las Vegas City Hall and Civic Plaza to solve the problems of today and serve the community of tomorrow," said Curtis Fentress, Principal-in-Charge of Design at Fentress Architects. "The Public Works Project of the Year Award is a testament of this team effort and we are proud to have been recognized by a nationally-known organization such as the APWA."
In addition to consolidating departments, the state-of-the-art City Council Chambers and Development Services Center are designed to provide an open and accessible government forum for the public. Outside, the shaded entry arcade and the civic plaza serves as a central gathering place for the community and are designed to accommodate stage performances and music festivals. A water fountain with interactive spray pads adds a fun family attraction to the plaza.
Sustainable Strategies | The City Hall is on track to achieve LEED Gold certification. Specific energy and money-saving strategies include maximized water efficiency and the extensive use of daylighting, which enhance sustainability while supporting a healthier work environment. Responding to the area's hot and arid climate, the building utilizes ultra high-efficiency glazing, visually transparent shade cloth, and daylighting controls throughout. Photovoltaic arrays on the rooftop take advantage of the intense sun to generate alternative energy. Controlled supply and dual flush fixtures improve water efficiency in a region where water conservation is vital. The design also utilizes recycled and local materials. As an urban renewal project, the site is an example of responsible infill and downtown revitalization.
City Hall | Fast Facts
Location: North Las Vegas, Nevada
Client: City of North Las Vegas
Architect of Record/Design Architect: Fentress Architects
Contractor: The Whiting-Turner Contracting Company
Size: 200,000 sq. ft.
The APWA Public Works Project of the Year Award will be presented August 27, 2012, at the 2012 International Public Works Congress and Exposition in Anaheim, California.
Fentress Architects is a global design firm that passionately pursues the creation of sustainable and iconic architecture. Together with their clients, Fentress creates inspired design to improve the human environment. Founded by Curtis Fentress in 1980, the firm has designed US$26 billion of architectural projects worldwide, visited by over 300 million people each year. Fentress is a dynamic learning organization, driven to grow its ability to design, innovate and exceed client expectations. The firm has been honored with more than 385 distinctions for design excellence and innovation, and in 2010, Curtis Fentress was recognized by the American Institute of Architects with the most prestigious award for public architecture, the Thomas Jefferson Award. Fentress has studios in Denver, Colorado; Los Angeles, California; San Jose, California; Washington, D.C.; and London, U.K. http://www.fentressarchitects.com
Please contact Angela Potrykus at 303.282.6192 or potrykus(at)fentressarchitects(dot)com for more information or images.