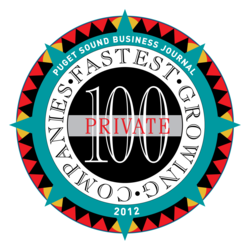 After 37 years, Nytec continues to lead the engineering industry as a trusted solutions partner to companies worldwide generating products that define cutting edge.- Nytec CEO Richard Lerz
Seattle, WA (PRWEB) October 19, 2012
Puget Sound Business Journal announced that Nytec Inc., a Redmond, WA engineering firm, ranked 30th on their prestigious 100 Fastest-Growing Private Companies based on revenue growth rate from 2009-2011. The list recognizes companies with year after year revenue and that had a significant impact on the region's economic growth. The official rankings were announced at an awards event at Meydenbauer Center on Oct. 11th, which drew over 400 attendees.
"It is an honor to be recognized by the Puget Sound Business Journal for this achievement," states Nytec CEO Richard Lerz. "After 37 years, Nytec continues to lead the engineering industry as a trusted solutions partner to companies worldwide generating products that define cutting edge."
Nytec, a leader in the engineering industry, attributes explosive growth to their recent diversification of services that are tailored to an industry niche, solid partnerships, and providing excellent benefits to attract top talent. This past year Nytec has successfully expanded their laboratory services, offering secure testing facilities, lab management, and new product development technologies to support the latest electronic based products.
The Fastest-Growing Private Companies program was launched 17 years ago by the Puget Sound Business Journal to identify and recognize companies speeding to the top of their industries. To be eligible, companies must: be privately held and headquartered in Washington; have at least $500,000 in net revenue in 2009; show an overall growth from 2009 to 2011 calendar years; and agree to submit their net operating revenues.
"The companies that make this list are, by definition, among the most dynamic in our region," said Business Journal Publisher Gordon Prouty. "Especially this year, making membership on this elite list is all the more impressive, and these companies are showing all of us what qualities it takes to grow in challenging times."
While this type of rapid revenue growth is commonly associated with startups, Nytec was founded in 1975 and has been a solid player in the industry for over 37 years. Nytec was especially pleased as this comes in the wake of another recent acknowledgement. Nytec made the 2012 Inc. 500|5000 fastest growing US companies list, with a 176% three year revenue growth rate, making them the 1656th fastest growing US company, 34rd in Washington State and 14th nationally in the engineering industry.
The complete list and company profiles are available in the October 12th print edition of the Puget Sound Business Journal.
About Nytec:
Founded in 1975, Nytec is an industry leader in providing engineering services with a high degree of global experience and unparalleled talent. Nytec's features and services include: hardware/software test & development engineers, hardware technicians, audio/video test, RF test engineers, benchmark testing, lab management, LabView development, IT support staff, HALT/HASS testing, and product development from R&D and proof of concept to manufacturing. Headquartered in Redmond, WA, Nytec has forged tight partnerships with leaders in cutting edge technology and their experienced team of engineers and technicians have been involved in multiple groundbreaking projects. For more information please visit http://www.Nytec.com or call 425.968.5715 .
Contact:
Nytec, Inc.
Alexandra Dorsett
Marketing Coordinator
425.250.6810
alexandrad(at)nytec.com