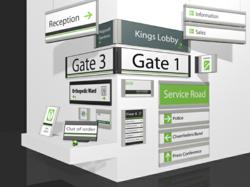 We're happy to be able to offer the new GreenSquare sinage system because it will add diversity to our product offering.
Los Angeles, CA (PRWEB) October 31, 2012
A media representative for Office Signs Pro today announced the company's owner and manager were invited to tour Vista System's factory to view Vista's new assembly line of a flat sign system that's called "GreenSquare". The invitation was sent by Vista System's chief executive officer Mr. Erez Halivni.
Office Signs Pro provides business signs to a long list of clientele many of which have been using the company for their diverse sinage needs. The company's managers will undergo training on Vista System's new GreenSquare sinage system which will teach them how to sell and distribute the signs in the United States and Canada.
GreenSquare is a sought after and internationally well-known manufacturer and supplier of a state-of-the-art flat modular way-finding sign system. According to the company's website, it was founded in 2010 and has slowly expanded its products and services to include clients outside of their headquarters in Australia
One of the principles at Office Signs Pro said, "We're happy to be able to offer the new GreenSquare sinage system because it will add diversity to our product offering." The company sells cubicle nameplates, office door nameplates, wall frame signs, wall bracket signs and table stands all of which may be ordered in a portrait or landscape design.
Vista Systems is widely recognized as a global leader in modular wayfinding sign solutions while Office Signs Pro is a leader in the office nameplates and business signs industry in California. The partnership strengthens both companies and allows them to reach a broader range of customers which include small and large corporations throughout the world.
The CEO of Office Signs Pro has had an incredibly busy year cultivating relationships and partnerships with other high profile businesses such as Vista Systems. Recently, the top executives at the company attended the NMB Show in Long Beach, California which is a business trade show that presents the latest in sign making, digital printing and apparel decorating.
About
Office Signs Pro offers different types of office signs and name plates for both small and large businesses. The company produces interior and exterior signs that can be used as door signs, wall signs, desk nameplates, and cubicle names.
Contact
Office Signs Pro LLC
12501 Burbank Blvd. Ste 4-240
Valley Village, CA 91607
Phone: 866-374-5453
Web: http://www.officesignspro.com