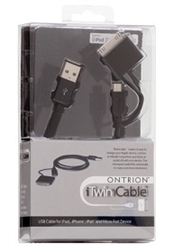 The new iTwin Cable from OnTrion® eliminates the bulk and frustration by enabling convenient charging and data syncing of all tech devices with a single lightweight cord by incorporating both an Apple® and Micro Tip
Dallas, Texas (PRWEB) August 23, 2012
iPhones®, iPads®, iPods® and non-Apple smartphones are increasingly becoming must-have devices, especially when traveling. Keeping them charged on the road, however, can prove a frustrating and cumbersome experience. The new Charge & Sync iTwin Cable from mobile phone battery manufacturer OnTrion® eliminates the bulk and frustration by enabling convenient charging and data syncing of all tech devices with a single lightweight cord by incorporating both an Apple®and micro tip.
According to a November 2010 SF Gate article, "Gadget junkies love to take technology on trips," but that love affair is forcing travelers to increasingly load "themselves down with technology to use on the road" … "and it's adding to the bulk of their bags."
With airline baggage overage fees at all time highs, all that extra weight can cost travelers a substantial amount of money, but smartphone iPhone®, iPad® and iPod® addicts are often reluctant to leave their much-loved devices – and all their charging attachments – at home. Now they don't have to choose between their smartphone/MP3 player/tablet computer and being penalized at the airline counter. The new Charge & Sync iTwin Cable from OnTrion® affords them convenient all-in-one charging and data syncing of all electronic devices with a micro or Apple connector.
For more information on how to reduce the weight and bulk of a travel bag with an OnTrion® Charge & Sync iTwin Cable, visit the manufacturer on the Web at http://www.ontrion.com. To learn more about the device's built-in switching functionality between Apple®/micro smartphone, MP3 player, tablet computer, e-reader and digital camera, contact OnTrion's® Palki Kochar.
###
CONTACT INFORMATION:
Palki Kochar
13650, TI Blvd., Suite #309
Dallas, TX 75243
(972)497-9933
http://www.ontrion.com