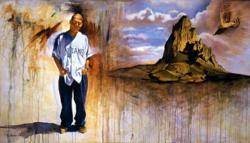 "With the addition of 10 more artists growing our list of participants to 54 this year, Open Studio Tour 2012 promises to be even bigger and better than the last three very popular tours," said Susannah Castro, Tubac Center of the Art's Artistic Director
Tubac, AZ (PRWEB) February 09, 2012
It is no secret that Southern Arizona has historically been a place saturated with creative talent. Nowhere will this be more evident than in the Santa Cruz Valley, March 16–18, 2012. This is where some of Southern Arizona's finest artists will participate in the 4th annual Santa Cruz Valley Open Studio Tour. Here dozens of local artists from Tubac, Sahuarita, Green Valley, Amado, Rio Rico, and Nogales will open their studios to the public for one weekend allowing visitors the rare opportunity to see where creativity begins. Local resorts Tubac Golf Resort & Spa in Tubac and Esplendor in Rio Rico will be hosting area artists and offering food and drink specials each day of the tour.
The amazing studio tour offers patrons insight into the creative process and work environment of area artists while also allowing them to purchase works directly from the artists themselves. The Santa Cruz Valley Open Studio Tour provides a glimpse into the sometimes "unknown world" of artists. Traveling from studio to studio visitors will get an unprecedented look at artists and their work.
There is also plenty of room for exploration given the natural beauty of the region. Visitors will find a diverse selection of art, culture, fine dining, furnishings, history, shopping, museums, hiking, and lodging. Unlike most art tours, the Santa Cruz Valley Open Studio Tour is free. Visitors will be able to plan their own agenda, tour the area, and visit the artists' viewing locations during the three day event. "With the addition of 10 more artists growing our list of participants to 54 this year, Open Studio Tour 2012 promises to be even bigger and better than the last three very popular tours," said Susannah Castro, Tubac Center of the Art's Artistic Director. "Each year participating artists open their studios to the public. This is a rare opportunity to see where and how the artists work. The work represented runs the gamut of artistic expression, from traditional oil painting to batiks, encaustics, jewelry, metal sculpture and more."
A free full color catalogue with maps to dozens of studios, artists' profiles, listings of events, restaurants, lodging and shopping will be available for pick up at Tubac Center of the Arts, Green Valley Chamber of Commerce, Green Valley Community Centers, Herberger Theater Center and Scottsdale Artists School, Tucson Pima Arts Council, and at many businesses in the valley, Tucson, and Phoenix metro area. In addition to information on the artists and TCA, the catalogue will contain promotional information about various sponsoring businesses and organizations throughout the region. A list of catalogue pick up points as well as a virtual catalogue will be available at http://www.tubacarts.org. Copies of the 2012 catalogue can be ordered by calling the Center at 520-398-2371.
The tour will be launched with a preview exhibition of artists' work on display at Tubac Center of the Arts from March 16 – April 29. A gala artists' reception sponsored by local Tubac businesses Tumacookery and YardWoman will kick off the tour at Tubac Center of the Arts on March 16, 2012 from 5-7 pm.
About Tubac Center of the Arts: Tubac Center of the Arts is a non-profit arts organization dedicated to the celebration and promotion of the arts through education, exhibitions, performances, and the collection and presentation of art that honors the artistic and historic heritage of Tubac and the Santa Cruz Valley.
###