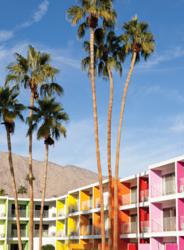 As with The Saguaro in Scottsdale, we believe this concept will bring something very fresh and welcome to Palm Springs.
San Francisco, CA (PRWEB) January 25, 2012
The Saguaro Palm Springs, Joie de Vivre's new, colorful 249-room boutique hotel property, will officially open on February 1, 2012.
Centrally located at the corner of Sunrise and East Palm Canyon Drive in Palm Springs, CA, this is boutique hotel company Joie de Vivre's first property in Palm Springs, and the second in an expanding collection of Saguaro hotels, following the successful opening of The Saguaro Scottsdale in November 2011. Designed to reflect the colorful vibrant spirit of the Southwest, the bold color palette is the work of renowned architects Peter Stamberg and Paul Aferiat, of New York-based Stamberg Aferiat Architecture, who have infused the property with hues that reflect the indigenous flowers of the surrounding desert region. The three-story structure, originally constructed in 1977, will feature an expansive pool located within a lush center courtyard, and an innovative restaurant run by James Beard award-winning Iron Chef Jose Garces, who also oversees food & beverage at The Saguaro Scottsdale.
"We are thrilled to be opening our second Saguaro hotel and to have such a great location in Palm Springs," said Joie de Vivre President & COO Ingrid Summerfield. "As with The Saguaro in Scottsdale, we believe this concept will bring something very fresh and welcome to Palm Springs."
The Saguaro is owned and is being repositioned by The Sydell Group Ltd., an owner and developer of lifestyle-oriented hotels recognized for their innovative and collaborative food and beverage and retail partnerships. Other Sydell properties include The Saguaro Scottsdale, which is managed by Joie de Vivre Hotels, and the soon-to-open NoMad Hotel in New York which will be managed by Sydell.
Peak season weekday room rates at The Saguaro Palm Springs start at $189 and weekend rates start at $249. For more information or to book, please visit http://www.thesaguaro.com.
JOIE DE VIVRE HOTELS
Joie de Vivre Hotels embarked on its mission to "create joy" for guests in 1987, when Chip Conley founded the innovative hospitality company in San Francisco. Each one of Joie de Vivre's more than 30 hotels is an original concept designed to reflect the local community and engage the five senses so that guests enjoy authentic, memorable experiences. Today Joie de Vivre manages the largest collection of boutique hotels and resorts in California and is expanding outside the state with the opening of The Saguaro in Scottsdale, Ariz. and Hotel Lincoln in Chicago. http://www.jdvhotels.com
SYDELL GROUP LTD.
Sydell Group Ltd. is a New York based owner, developer and manager of lifestyle oriented hotels. Sydell's core expertise is its ability to identify the highest quality talent within the hotel, food & beverage, and retail creative communities and align them with best in class development, asset management and financial discipline to maximize value in the creation of compelling new business models in lifestyle oriented hospitality. Sydell's objective is to assemble, cultivate, and enable the creative talents of its partners in the production of true classics that are respected for their originality and authenticity. http://www.sydellgroup.com
GARCES RESTAURANT GROUP
Since opening his first restaurant, Amada, in 2005, Chef Jose Garces has emerged as an enormous talent and one of the nation's most gifted young chefs. In 2010 Chef Garces won Food Network's The Next Iron Chef, making him one of seven chefs in the country to hold the prestigious title of Iron Chef America, which he appears on regularly. Garces also authored a stunning cookbook, Latin Evolution (Lake Isle Press, September 2008), won the James Beard Foundation's prestigious "Best Chef Mid-Atlantic 2009" award and has been featured on top TV shows and in prestigious publications such as Today Show, Nightline, The New York Times, Travel & Leisure, Conde Nast Traveler, Bon Appetit, Food & Wine and Wall Street Journal. http://grg-mgmt.com/
STAMBERG AFERIAT ARCHITECTURE
Stamberg Aferiat Architecture is a New York-based studio with a broad portfolio of schools, museums, galleries, showrooms and private houses. Mixing the crisp steel-framed aesthetic of high American Modernism with color inspired by Matisse and Hockney, Peter Stamberg and Paul Aferiat have carved an individualistic niche in contemporary American design. They have long felt that the disappearance of color is a great loss to the built environment, with color bringing emotional resonance to people's lives. For this reason, Stamberg Aferiat have brought the colors of native wildflowers to The Saguaro and designed the hotel around the color and light of the surrounding landscape, making the space, inside and out, a joyful place to be. http://www.stambergaferiat.com.
###