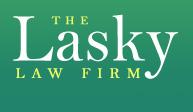 We are pleaased to welcome such an experienced and accomplished attorney to our practice.
Jacksonville, FL (PRWEB) May 21, 2012
Florida family law Attorney Paul K. Dick is merging his practice the Lasky Law Firm. Mr. Dick will be practicing marital and family law in Northeast Florida in Duval County, Clay County and St. Johns County. The firm is pleased to welcome Mr. Dick as an accomplished and well respected member of our legal community.
Paul K. Dick is a leader in Family Law and has been providing a wide range of valuable services to the First Coast community for over 27 years, including: prenuptial agreements, spousal support, property distribution, child custody, child support, quit claim deeds, transfer documents and other family court matters.
Paul began his legal journey when he graduated in 1983 from the University of Memphis (formerly Memphis State University) with a Juris Doctor degree. He was a member of Delta Theta Phi, the legal fraternity on campus. He went on to serve as Assistant Public Defender from 1983 until 1988 in Jacksonville, Florida where he defended indigent citizens in criminal court matters ranging from juvenile offences to second degree murder indictments.
In 1988 he left civil service to join the firm Schulman, Howard & Hemphill, P.A., also in Jacksonville, Florida. This is where his career began to take shape since his practice was primarily focused in family law and criminal defense. In 1996 he moved on to expand his career further by joining the law firm of R. Craig Hemphill & Associates.
Paul K. Dick has had the fortunate dual opportunity of having grown up in a tight-knit family in the Northeast and then having been educated in the South. Mr. Dick also has strong ties and a background with the Military Community. Due to this, his legal expertise and social sensibilities for serving a diverse clientele are equally balanced. This great personality mix, along with his desire to assist families in crisis has created an attorney who possesses strong traditional values, extensive knowledge of the legal system and a cutting-edge wit. He truly understands that the best way for an attorney to represent his client is by creating a solid rapport that is comfortable, smart and trustworthy.
The Lasky Law Firm located in Jacksonville Florida, provides knowledgeable and supportive client service to individuals and families on a wide range of family law issues. The attorneys at the firm aggressively assist clients with divorce, child custody, paternity or grandparents' rights anywhere in northeast Florida. The firm is also well known for extensive experience in military family law matters including military divorce and division of military benefits.