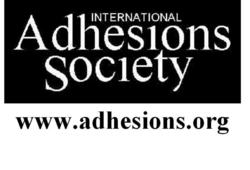 The relationship between adhesions and pain is very complex. Clearly more research is needed. Until then, adhesiolysis should remain a treatment option for chronic pelvic pain.
Dallas, TX (PRWEB) December 03, 2012
The International Adhesions Society (IAS) published today its analysis of sections of a government-sponsored report on chronic pelvic pain regarding the effectiveness of adhesiolysis, a surgical procedure often used to treat pelvic pain. The IAS analysis includes details of an agreement from the authors of the report to revise its language.
"Since this type of report is used by payers and other policy makers," notes Dr. David Wiseman, Founder of the IAS, "the over-reliance on what we believe to be a flawed study may result in the denial of insurance coverage and therapeutic options for over 400,000 American patients in whom adhesiolysis is performed annually."
Adhesiolysis is a surgical procedure in which adhesions, abnormal connections between organs that form mostly because of disease or previous surgery, are cut.
The report, authored by Dr. Jeff Andrews and his team at the Vanderbilt Evidence-based Practice Center was commissioned by the Agency for Healthcare Research and Quality (AHRQ), of the Department of Health & Human Services, and evaluated the effectiveness of various therapies for female chronic pelvic pain. For adhesiolysis, the team relied on a Dutch study (Swank et al., 2003) which concluded that although laparoscopic adhesiolysis relieves chronic abdominal pain, it could not be recommended to treat chronic abdominal pain because it was not more beneficial than laparoscopy alone.
The IAS in collegial correspondence with Dr. Andrews, highlighted statistical and other flaws in the Dutch study which challenge its conclusions as well as the degree of reliance attached to that study. "Dr. Andrews has agreed to revise the report's language" says Dr. Wiseman, "although budget cuts may delay this revision."
"The Dutch study has provided important insights into the relationship between adhesions and pain," comments Dr. Wiseman, "and our analysis has found enough evidence to warrant more definitive research on the benefit of adhesiolysis in chronic pelvic or abdominal pain. However, its inclusion in a forum for the formulation of health policy is premature."
The IAS otherwise praised the Vanderbilt report in raising awareness about chronic pelvic pain and in demonstrating the importance now attached by the US Government to this major health problem affecting over 15 million Americans.
The IAS has proposed the following statement to more accurately reflect what we know about adhesions and pain:
"The relationship between adhesions and pain is very complex. The few studies that address whether or not adhesiolysis benefits patients with CPP are limited either by size, design or interpretation, but nonetheless suggest that in some patients adhesiolysis may provide benefit above that apparently provided by diagnostic laparoscopy alone."
"Clearly more research is required," adds Dr. Wiseman, "and non-surgical alternatives for the treatment of chronic pelvic pain should be preferred." Indeed, Dr. Wiseman, has recently formed KevMed LLC based on IAS research showing that PainShield® MD, a wearable, therapeutic ultrasound device reduced pelvic, bladder, and bowel related pain. "In the meantime," notes Dr. Wiseman "it is important that a full range of covered treatment options, including adhesiolysis, remains available for pelvic pain patients."
About the International Adhesions Society
The International Adhesions Society (IAS) is a volunteer organization for the promotion of awareness and research into Adhesion Related Disorder (ARD) and Complex Abdomino-Pelvic Pain Syndrome (CAPPS). Through its website adhesions.org and its sister site iscapps.org, the IAS provides advocacy, impartial information, and support for patients and families afflicted with ARD and CAPPS.
The IAS was founded and is funded by Synechion, Inc., a company providing R&D consulting services focusing on adhesions. The IAS has conducted research of its own, which has led to new understandings about adhesions, pain and related conditions and the conception and establishment of the world's first multidisciplinary center for adhesions and CAPPS at Celebration Health in Florida.
Andrews J, Yunker A, Reynolds WS et al., Noncyclic Chronic Pelvic Pain Therapies for Women: Comparative Effectiveness. Comparative Effectiveness Review No. 41. AHRQ Publicaton No. 11(12)-EHC088-EF. Rockville, MD: Agency for Healthcare Research and Quality. January 2012.
Swank DJ, Swank-Bordewijk SC, Hop WC, et al. Laparoscopic adhesiolysis in patients with chronic abdominal pain: a blinded randomised controlled multi-centre trial. Lancet. 2003;361:1247.
Adhesiolysis: A reanalysis of the AHRQ Report on Chronic Pelvic Pain
Wiseman, DM. Nov 30 2012. International Adhesions Society, Dallas, TX.