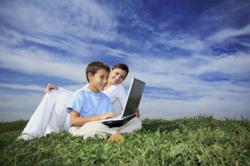 Los Angeles, CA (PRWEB) April 12, 2012
The NFEC's personal finance for kids program is launching April 30th. The material is designed to help instructors and parents teach kids about money in a fun, engaging and relevant way. This addition to the NFEC's education resources rounds out their current offerings and will be a part of the Financial EduNation's 'Life Stages' Financial Literacy Curriculum.
The NFECs' Financial EduNation campaign provides turnkey resources to individuals and organizations that seek to improve the financial capability of those they serve. A National Financial Educators Council's spokesperson stated, "When educators and parents teach children about money at a young age, it helps them to raising money smart kids that may grow into financially responsible adults. They are forming financial habits early on in life; our goal is to help them form those good habits."
The personal finance for kids program financial literacy curriculum, sing-along videos, books, training and support tools for kids between 3 and 8 (pre-kindergarten through the 2nd grade). This program also features the NFECs' Certified Financial Education Instructor program, which helps educators teach children about money effectively. The entire program includes tools designed to increase long-term retention of the lessons. This includes lesson plans, student guides, board games, video learning centers, software, games and the Certified Financial Educator Training program. The program material and training will be launched at the end of financial literacy month (April).
Reports show that teaching kids about money throughout their development improves their financial capabilities. This can help them avoid common problems that many people are facing today – debt and other financial issues. Besides the financial consequences, it is commonly understood that monetary issues is a leading contributor of stress, health and relationship problems. The NFEC website points to the fact that many of the problems people face can be avoided or lessened by becoming financially literate.
The personal financial for kids coursework was developed by the National Financial Educators Council in a similar manner to material offered to various age groups they serve. Financial professional, educators and personal finance experts collaborated to bridge the gap between educational standards and practical knowledge. Early childhood development experts were also consulted to ensure the effectiveness of the coursework being developed.
The National Financial Educators Council is a social enterprise organization committed to improving the financial capability of people globally. The personal finance for kid material offers age specific financial education to foster positive monetary habits among children. The NFECs' Financial EduNation Campaign encapsulates all the programs offered to provide community leaders, organizations and financial professional's tools to conduct effective outreach, awareness and promotion initiatives.