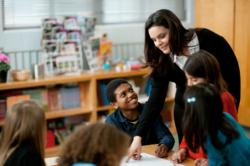 Los Angeles, CA (PRWEB) March 29, 2012
April 1 marked the first day of the United States national Financial Literacy Month. To help get the month's events underway, the National Financial Educators Council is providing complimentary personal finance programs to nonprofits and schools across the U.S. through the NFECs' Financial EduNation campaign.
Financial Literacy Month is designed to raise awareness among American citizens about the importance of acquiring financial education skills sets. A national awareness promotion, the Financial EduNation campaign, has been organized by the NFEC in collaboration with celebrities, sport starts and other positive influencers. The stated objective of this initiative is to provide free personal finance programs to organizations that need support while raising awareness on a national scale.
Over financial literacy month, the US-based social enterprise organization known as the National Financial Educators Council is giving complimentary financial education resources to parents, educators, financial advisors, and other professionals. The NFEC is also conduct a nationwide awareness campaign that encourages citizens to improve their financial capability.
"The NFEC is a pioneer in the field of financial education. Their commitment to provide people personal finance programs while raising mainstream awareness is taking this industry to the next level. It's great to partner with an organization that shares my personal goal of spreading the message to as many people as possible my goal," states Chad Penry, co-founder of Money XLive Celebrity Financial Education event.
The NFEC offers a variety of financial literacy resources and training programs that will be available throughout financial literacy month and beyond. These are designed to provide information to a variety of ages and groups: adults, kids, families, teens and educators. By teaming up with schools, non-profit organizations, community groups, and for-profit corporations the NFEC seeks to deliver educational material to groups interested in financial literacy.
The National Financial Educators Council designed the Financial EduNation Campaign supports the financial literacy development of people on a global level. The free personal finance programs, resources and educational material created by the NFEC is designed to provide people around the world the knowledge and confidence to take effective action towards their financial future. The material offered during this campaign stated objective is to help people best fulfill their personal, family, and global community goals.
The National Financial Educators Council provides custom personal finance programs designed to improve organizations' financial capability and inspire participants to continue learning about personal finance topics. The NFEC has served hundreds of nonprofit organizations, schools, and community organizations internationally and is a leading advocate for teaching kids about money at a young age. The NFEC is one of the top groups leading promotions over financial literacy month.