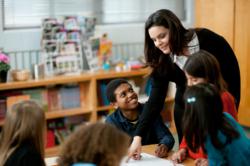 Erie, PA (PRWEB) February 07, 2012
The National Financial Educators Council (NFEC) and the Center for Financial and Consumer Outreach at Penn State Behrend are teaming up to share the Financial EduNation resources with the citizens of Pennsylvania. This campaign's stated objective is to improve personal financial education skills among youth across the state.
To combat the financial illiteracy epidemic that impacts families all across Pennsylvania, the NFEC and Center for Financial and Consumer Outreach are providing complimentary personal finance resources to young people and those who support youth development. The Financial EduNation campaign provides organizations and concerned citizens with a comprehensive set of resources to combat financial illiteracy at the local level.
At launch the Financial EduNation campaign provides personal financial education resources for students, parents, educators, and the community. The resource center comprises more than 30 tools designed to provide youth with personal money management knowledge. The Financial EduNation empowers parents, educators, community members, and financial professionals to share personal finance lessons with today's youth.
The resource package includes financial literacy curriculum, "Real Money Experience" PowerPoint presentations, after-school programs, evaluation tests, and Money XLive video, along with video instruction on how to teach financial literacy effectively. Select educators and volunteers can earn NFEC Certified Financial Education Instructor status.
Parents will find tools in the Financial EduNation resource center that can help improve their children's personal money management skills. One example is the "Family Money Talks" guide, a tool that offers practical tips for teaching kids about money. The interactive family discussion topics can help parents inspire kids, teens, and young adults to begin developing essential money management skills that can have a lasting impact on their futures.
The Center for Financial and Consumer Outreach (CFCO) is an outreach arm of the Sam and Irene Black School of Business at Penn State Behrend. The CFCO's primary purpose is to deliver educational outreach-based programming focused on personal financial education skills to students in middle school through college. The CFCO's efforts have helped more than 25,000 individuals acquire skills to earn a living, achieve self-sufficiency, and improve quality of life.
The National Financial Educators Council (NFEC) developed the Financial EduNation campaign to foster positive personal financial education habits among young people. The NFEC is dedicated to giving communities resources to empower today's youth with the information they need to make good financial decisions. Financial literacy can improve their lives, the lives of their loved ones, and the lives of their global network.
###