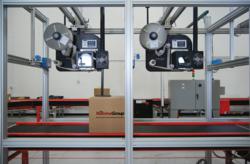 "When our customers make a commitment to an investment in automation, many times they are eliminating a dozen or more personnel from their operation. It is critical that the hardware and software we supply has six sigma or beyond reliability,"
Woodridge, IL (PRWEB) April 13, 2012
Numina Group, a leading supplier of advanced Warehouse Control Systems (WCS), and a distribution process automation integrator, has been named "2011 Integrator of the Year" by Panther Industries, Inc. "We have selected Numina Group based on their record as our number one sales leader of Panther print and apply label applicator systems for 2011" stated James Thompson, engineering manager with Panther Industries. Panther manufactures the highest performance, "best in class" print and apply labeling equipment, including the Panther 2000e, an all electric tamp application that achieves the industry's fastest print/ tamp cycle performance and accurate label placement technology.
Numina Group has experienced an increased demand for their labeling solutions because of their ability to reduce manual labor in manufacturing, warehouse and distribution order fulfillment, and shipping operations. A print and apply label applicator is essentially a low-cost robot that automates the printing and application of retail receiving, compliance labels or UPS, FedEx, and other carriers' shipping labels.
Numina's solutions combine in-motion barcode scanning, dimensioning, and weighting with real-time controls and software to eliminate manual labor. Print and Apply Labeling can also automate either the application of or the insertion of the packing sheet in combination with the shipping label to further streamline pick, pack, and ship processes and boost distribution operation throughput.
"The performance and reliability of Panther's print and apply line complements our automation solutions," explains Dan Hanrahan, President of Numina Group. "We want suppliers with a passion for excellence in performance, reliability, and ease of maintenance. When our customers make a commitment to an investment in automation, many times they are eliminating a dozen or more personnel from their operation. It is critical that the hardware and software we supply has six sigma or beyond reliability," he added.
Panther Industries shares Numina Group's philosophy, and builds applicators that meet these standards. Their PLC based controls easily integrate with Numina's automation control systems. An excellent example of this is the Panther 2000e "All Electric" print and apply labeling system used in Numina's One Step™ and One Step Plus™ pack sheet and shipping label automation solutions.
One Step™ is a modular product family for automating packing, shipping, and manifesting. It typically reduces 4-5 manual operators, to perform packing and shipping in B-to-B and E-Commerce distribution applications while boosting shipment throughput. One Step Plus™ automatically scans, weighs, dimensions, and prints and applies both the packing sheet and carrier shipping label in a single step, eliminating hundreds of hours a day of manual labor and sources of errors from a mid-sized distribution operation.
About Numina Group.
Founded in 1986, Numina Group is a leading systems integrator and material handling automation supplier, providing warehouse controls and automation solutions for manufacturing and distribution operations worldwide. Core strengths are focused in design and implementation of Pick, Pack, and Ship order fulfillment process improvement. Numina Group offers a full range of services from consulting/design, control system upgrades/process improvements to fully integrated Warehouse Control Systems and turn-key distribution operations. Numina Group's expertise eliminates operational bottlenecks and excessive labor while improving accuracy and throughput across the entire order fulfillment and distribution operation. To learn more about Numina Group please visit them at http://www.numinagroup.com
About Panther Industries
Panther Industries, Inc. is a manufacturer of automated labeling equipment. The Panther 2000e "All-Electric" "Print and Apply" labeling system, is the industry's highest performance and most accurate label placement system in the industry. It is designed to operate in high performance, mission critical manufacturing and distribution operations. Headquartered in Englewood, CO., they service the world. Phone: 800-530-6018. Please visit them at: http://www.print-n-apply.com