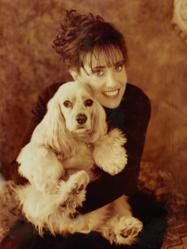 "I am thrilled that a number of leaders in the human and animal oncology fields, as well as various experts in many fields, support our cause and have joined our Board of Directors and Scientific Advisory Council," says Linda Wassong
New York, NY (PRWEB) October 17, 2012
The Puccini Foundation for Comparative Oncology recently expanded its Board of Directors and Scientific Advisory Council with leaders from the medical and business fields. The Foundation was formed in 2007 by Linda Cohen Wassong to educate the public and raise funds exclusively for comparative oncology research.
Comparative oncology is the study of cancer that naturally occurs in animals, to help find treatments and cures for humans, as well as animals. Through collaboration by researchers of animal and human medicine, comparative oncology seeks novel and innovative approaches to discover treatments and cures for cancer faster and more cost-effectively.
In 2006, Wassong's cocker spaniel and longtime companion, Puccini, was stricken with melanoma, the same dangerous skin cancer that humans endure. Her dog participated in clinical trials as part of a partnership between veterinarians at New York's The Animal Medical Center (AMC) and human oncology researchers at Memorial Sloan-Kettering Cancer Center (MSKCC). Through the trials, Puccini's quality and quantity of life were extended. The treatment he received went on to become the first and only USDA-approved, therapeutic vaccine for the treatment of cancer in animals or humans. The information from the canine clinical trials is being used in ongoing research by MSKCC to investigate potential implications for a human treatment.
"I am thrilled that a number of leaders in the human and animal oncology fields, as well as various experts in many fields, support our cause and have joined our Board of Directors and Scientific Advisory Council. Animals and people get many of the same kinds of cancers. Our members will help give a voice to this promising science," says Linda Wassong.
Members of the Puccini Foundation Board of Directors include the following:
ANTONELLA BORGATTI, D.V.M., Diplomate ACVIM, Diplomate ECVIM-CA, Clinical Faculty of the College of Veterinary Medicine, University of Minnesota, Minneapolis, MN. An Assistant Clinical Professor of Comparative Oncology, Dr. Borgatti's work focuses on clinical research applications of novel therapeutics and targeted treatments of cancer in small animals. She teaches Comparative Oncology courses at the University, and is currently a Principal or Co-Investigator in three different research studies exploring innovative cancer treatments.
JOHN BRADLEY, Principal, Torreya Partners LLC, New York, NY. Mr. Bradley has led a distinguished career in the pharmaceutical industry for more than 30 years and is a Principal of Torreya Partners, a boutique advisory firm noted for carrying out 500 M&A and financial transactions in excess of $250 billion within the life science community. To date, Bradley has been involved in notable specialty pharmaceutical company financings and has raised $400 million for a group of pharmaceutical companies. His business leadership experience includes a position as President of the NYSE-member investment bank Bradley-Hummel & Co., and serving as Chairman of the Board of Mystic Pharmaceuticals, a drug delivery company.
MATTHEW BREEN, PhD. C.Biol. M.I.Biol., Breen Lab, North Carolina State University College of Veterinary Medicine, Raleigh, NC. Dr. Breen, Professor of Genomics in the Department of Molecular Biomedical Sciences and the NC State Center for Comparative Medicine and Translational Research, is a leader in the field of genomics and comparative medicine. His Breen Lab researches the cellular aspects of canine cancer and explores how its discoveries can be applied to more effectively treat human cancer. Dr. Breen's writings on genetics and comparative medicine have been widely published, and he lectures on the similarities between the canine and human genome and links between canine and human cancers. He serves on the Board of Directors, of the Canine Comparative Oncology and Genomics Consortium (CCOGC), a 501c3 not-for-profit organization established to promote the role of the dog in comparative biomedical research, and is a regular reviewer for numerous scientific journals.
CRAIG CLIFFORD, DVM, MS, Diplomate ACVIM (Oncology), Director of Clinical Research, Red Bank Veterinary Hospital, Tinton Falls, NJ. Dr. Clifford is an award-winning clinical researcher in veterinary oncology. In addition to his research work, he serves on the advisory boards for prominent pharmaceutical companies including Pfizer and Novartis, and consults to other notable organizations including the Veterinary Information Network, Animal Clinical Investigations Network, Oasmia Pharmaceuticals, Boehringer Ingelheim, Pet Medicus Laboratories, and AB Science. Dr. Clifford reviews manuscripts for the Veterinary Comparative Oncology Journal and other publications, and lectures around the world.
ALAN MANEVITZ, MD
Dr. Manevitz is a clinical associate professor at Payne Whitney-Weill Cornell Medical Center, an attending psychiatrist at New York Presbyterian and Lennox Hill Hospitals, and teaches at the Weill-Cornell Medical School. He maintains a private clinical psychiatric practice and has been named amongst the "Top Doctors in America" by Castle Connolly Medical Ltd., New York Times' "Super Doctors," New York Magazine's "Best Doctors," and "Best Doctors of America." He appears frequently on television and is interviewed on a broad range of topics by leading newspapers and magazines.
JOSHUA SCHIFFMAN, MD, Medical Director, Pediatric Oncologist, at Huntsman Cancer Institute at the University of Utah. Focusing on translational genomic research in pediatric cancer, his Schiffman Laboratory is actively involved in comparative oncology comparing genomics and biology of animals to guide new cancer research. Dr Schiffman is trying to identify novel approaches to preventing and treating childhood cancer. Dr. Schiffman also serves as Chair of the Oversight Committee for the Translational Oncology Core at Huntsman Cancer Institute, Associate Professor of Pediatrics, and Adjust Associate Professor in Oncological Sciences. He is a published author, lecturer, and principal investigator in several ongoing clinical studies.
LINDA COHEN WASSONG, Founder of the Puccini Foundation
Ms. Wassong was inspired to create the Puccini Foundation after her cocker spaniel and longtime companion, Puccini, was stricken with melanoma. Her dog participated in a comparative oncology clinical trial (a collaboration between The Animal Medical Center of New York and Memorial Sloan-Kettering Cancer Center), and Puccini's quality and quantity of life were extended. The treatment he received went on to become first and only USDA-approved, therapeutic vaccine for the treatment of cancer in animals or humans. Ms. Wassong career has spanned diverse industries, from entrepreneurial companies and major corporations to publishing to real estate, and she is channeling her business savvy and devotion to animals into the operation and growth of the foundation.
The Puccini Foundation Scientific Advisory Council includes the following:
JEFFREY BRYAN, DVM, MS, PhD, DACVIM, Associate Professor and Director, Comparative Oncology Laboratory; Section Chief for Oncology, University of Missouri, College of Veterinary Medicine, Columbia, MO.
FRANCES GULLAND, Vet. M.B., M.R.C.V.S., M.A., Ph.D., Commissioner, U.S. Marine Mammal Commission; Senior Scientist at The Marine Mammal Center, Sausalito, CA.
JAMES P. HALPER, MD
Clinical and Research Psychiatrist and Co-Medical Director of TMS Medical Associates of New York; Clinical Associate Professor of Psychiatry at NYU School of Medicine, New York, NY.
MARY KAY KLEIN, DVM, MS, Diplomate ACVIM, Diplomate ACVRO, Southwest Veterinary Oncology Referral Center; Clinical Lecturer, University of Arizona Cancer Center, Tucson, AZ.
C. ANDREW NOVOSAD, DVM, DACVIM (Oncology), Head of Oncology, Animal Diagnostic Clinic, Dallas, TX.
JEFFREY C. PHILIBERT, Diplomate ACVIM (Oncology), Founder, New England Veterinary Oncology Group, Waltham, MA.
CECILE SIEDLECKI, DVM, ACVIM/Oncology, Medical Director of the VCA Bay Area Veterinary Specialists & Emergency Hospital, San Leandro, CA.
ANNETTE N. SMITH, DVM, MS, Diplomate ACVIM, Associate Professor, Auburn University College of Veterinary Medicine, Auburn, AL.
STEVEN SUSANECK, BS, DVM, Diplomate ACVIM (Oncology and Internal Medicine), Bay Area Veterinary Specialists, Houston, TX.
ANDREW VAUGHAN, DVM, MS, DACVIM, Head of Medical Oncology at the Las Vegas Veterinary Specialty Center, Las Vegas, NE.
Wassong, along with many of the members of the Board and Advisory Council will be attending the Veterinary Cancer Society (VCS) Conference October 18-21, 2012, in Las Vegas. Dr. Andrew Vaughan, Puccini Foundation Advisory Council member, is the co-chairman of the 2012 VCS Conference.
The Puccini Foundation launched a new website earlier this year at http://www.puccinifoundation.org. Wassong's goal is for the website to become a centralized resource for laymen and medical professionals for all information related to comparative oncology. "Ultimately, greater awareness will lead to increased funding for comparative oncology research. What we learn from studying cancer in animals can help find treatment and cures for people," she says.
The Puccini Foundation is a registered 501(c)(3) non-profit organization established in 2007. It is dedicated to the hope of a future for pets and people…cancer free. The Puccini Foundation's mission is to make this a reality by educating the public and raising funds for comparative oncology programs. The Puccini Foundation serves as a resource for the One Health Commission:
http://www.onehealthcommission.org/en/resources/puccini_foundation_for_comparative_oncology/
For more information on The Puccini Foundation, visit http://www.puccinifoundation.org or email Linda Cohen Wassong at linda(at)puccinifoundation(dot)org. To make a donation, please visit http://puccinifoundation.org/donate-now/.
# # #