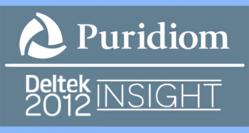 We bring over 29 years of commercial and federal best practice experience that can further enhance an already powerful Deltek product.
Mechanicsburg, PA (PRWEB) October 02, 2012
Puridiom, a leading provider of Procure-to-Pay software solutions and services, will showcase its purchasing and spend management software solution at the Deltek Insight 2012 annual conference in Nashville, TN on October 15 - 18, 2012. Deltek Insight 2012 is the leading event for project-focused professionals, offering expert advice, skills training and networking opportunities.
The e-procurement provider, Puridiom, will participate for a third year as a sponsor for the Deltek Insight 2012 Conference. The conference attendees, consisting of project-focused businesses, learned to grow their business, improve performance, effectively manage projects and maximize their Deltek product investments. Puridiom found that many of the conference participants could benefit by integrating the purchasing and spend management capabilities Puridiom offers, in order to maximize the already powerful capabilities of the Deltek product line.
In addition to sponsoring the event, Puridiom will also speak at a breakout session entitled, "More Than eProcurement: Strategies to Gain the Most Results," scheduled for Wednesday, October 17 at 3:15 – 4:15 pm.
"Deltek represents another opportunity for Puridiom to optimize the purchasing process within an already existing solution. Puridiom is a natural fit for this type of product with our seamless integration ability and CPSR ready status." said Jesus Ramos, Puridiom president and CEO. "We bring over 29 years of commercial and federal best practice experience that can further enhance an already powerful Deltek product."
Puridiom is looking forward to many more interactions with the organizations they spoke with at the conference. For more information visit the Puridiom website or call 1.800.388.1415.
Follow @Puridiompros #Deltek to get the latest updates and information.
About Puridiom
Puridiom is a leading Procure-to-Pay solution provider, offering the most comprehensive eProcurement software on both Cloud and Licensed platforms for organizations of all sizes and industries. For over 29 years, Puridiom has streamlined function in the supply chain with innovative technologies, providing dynamic personalized services and extensive domain experience. The easy-to-use software and team strategies enable organizations to gain a competitive position and transform business into a strategic resource savings entity. Solutions include: Enterprise Procure-to-Pay, Puridom Xpress, Strategic Sourcing, Catalog Content Management, Supplier Enablement, Invoice Automation, Business Process Outsourcing, and Travel Management. E-Procurement consulting services are also provided.