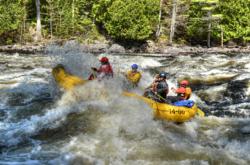 A summer of your life - and a lifetime of memories - guiding on Maine's best whitewater rivers.
The Forks, ME (PRWEB) March 22, 2012
Registration is open for Maine raft guide training at Northern Outdoors. Northern Outdoors, Maine's premier adventure resort and pioneer rafting company, is offering their annual river guide training program in May and June. Get paid to paddle and play on Maine's Kennebec river as a raft guide. Have fun and stay fit with Northern Outdoors this summer! Participants will learn the necessary skills and techniques to navigate some of this country's best whitewater rivers, while working with a team of dedicated, experienced white water professionals.
Full and part time guiding positions are available for successful applicants. This is a great summer job for college students, teachers or anyone interested in the adventure tourism or hospitality industries. Guide training applicants must be 21 years old. Successful guide school applicants are eligible to take their Level One Maine Registered Guide exam. Passing this exam is required in order to get a guiding license to work as a professional whitewater raft guide on the Kennebec River.
Guide Training Program:
Kennebec River, The Forks, Maine - May 17th-24th.
Penobscot River, Millinocket, Maine -June 24th-29th.
Fee: $200 ($270 with First Aid & CPR certificate).
Successful applicants must complete both sessions.
Registration is open through April 16, 2012.
For more information, contact: Greg Caruso: gcaruso@northernoutdoors.com or 800-765-7238. See [raft guide job information here.
Northern Outdoors is Maine's Premier Adventure Resort and winner of Yankee Magazine's 2011 Best New England Adventures Award. Established in 1976, Northern Outdoors offers year-round affordable, Maine adventure vacations and is the first and most experienced rafting adventure company in Maine. Summer season activities offered include whitewater rafting, river floats, hiking, ATV trails, and fishing. Lodging options include rustic to luxury cabins and riverside camping. The resort includes the Kennebec River Brewery, featured on the Maine Beer Trail. Northern Outdoors is located 4 hours from Boston, on Route 201, The Old Canada Road National Scenic Byway.
http://www.NorthernOutdoors.com