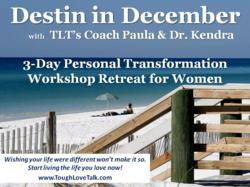 If you haven't made the changes you need to, what's going to make you?
Destin, Florida (PRWEB) November 28, 2012
Tough love expert Paula Renaye, CPC, brings her Living the Life You Love Personal Transformation Workshop for women to Destin, Florida, December 14-16 and December 21-23. The three-day intensive events also feature chiropractor and health and wellness educator, Dr. Kendra Pomeroy, giving participants the opportunity to create a total mind and body transformation experience.
"It's never just about one thing," says Renaye. "And when we shift our thoughts and behaviors in one area, it automatically creates an effect in other areas. That's what this weekend is about—the opportunity to make a total transformation in every area of your life."
Dr. Pomeroy agrees, noting that our bodies reflect our life experiences and our choices. "Physical issues can be traced back to three causes: thoughts, traumas or toxins," she says, adding that we have far more control over them than we want to admit. "It's easy to run to the doctor, hoping for a quick fix, but the truth is that our American lifestyle is killing us—and we're choosing it."
"Taking responsibility for our choices—and making different ones—seems like a no-brainer," Renaye says. "But most people don't realize they have choices, and that's what this weekend is all about—getting clear about what you want, why you don't already have it and how you can."
The workshop is limited to a maximum of five women to allow for personalized coaching by both Renaye and Pomeroy. The overall program is based on Renaye's tough love process from her highly acclaimed self-help book, Living the Life You Love: The No-Nonsense Guide to Total Transformation, which is the same type of cut-to-the-chase approach Dr. Pomeroy uses with her patients. "Your health is your most beautiful asset," she says, "and if you aren't consciously caring for it, you're unconsciously killing it."
Renaye adds, "Knowing what you're doing and doing it on purpose is key. And if you haven't taken the time to know—you don't." The concept sounds obvious and simple, but she says few people actually do it. "What are you doing right now that's going to make the next year of your life different than the last? If you haven't made the changes you know you need to, what's going to make you?"
"That's where we come in," Pomeroy says. "We're giving five women the opportunity to shortcut the process." In addition to the interactive group sessions, workshop participants will have one-on-one coaching to address their specific situations. The weekend includes exercises to identify and clear unconscious roadblocks, define goals and create action steps to achieve them. Participants will also learn take-home techniques and strategies to stay on track, hold themselves accountable and keep moving forward.
Renaye notes that having personal access to two no-nonsense professionals for three days is an opportunity most people never get. "I spent years feeling lost and confused, begging someone to tell me what to do," she says. "Turns out, I wasn't nearly as lost as I thought, and all I really needed was someone to help me realize it—and shine my own light on what to do about it."
To allow for maximum interactive time, as well as provide a relaxing and comfortable setting, the workshops will be held in a private residence near the beach in Destin, Florida. The fee to attend the event is $997 and includes lodging and meals. Complete details are available on Renaye's website at http://www.ToughLoveTalk.com.
"Really, all you have to do is show up," Renaye says, "and want to. The rest will take care of itself. "

ABOUT
Paula Renaye is a tough-love media expert, transformation and empowerment speaker, certified professional coach and five-time award-winning author of the acclaimed personal development book, Living the Life You Love: The No-Nonsense Guide to Total Transformation.
Dr. Kendra Pomeroy grew up in a chiropractic family in Canada and moved to Texas in 2008 where she earned her Doctorate of Chiropractic. She is a health and wellness speaker, specializing in women's health and nutrition. Dr. Kendra is co-owner of Roots Chiropractic in Hot Springs, Arkansas.
For workshop details, including schedule, location photos and registration information, visit ToughLoveTalk.com.