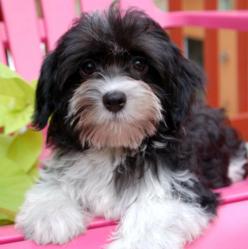 "It's refreshing to have the BBB monitor Royal Flush Havanese complaints and reviews insuring they are genuine and from real customers. Thank you BBB for putting consumers in touch with trustworthy, ethical companies"
Charlestown, RI (PRWEB) May 29, 2012
The Better Business Bureau has awarded accreditation to one dog breeder in Rhode Island, Royal Flush Havanese, as of April 2012, truly setting them apart from other breeders. Tireless dedication to the betterment of the Havanese breed and commitment to customer satisfaction is recognized not only by Royal Flush Havanese puppy owners but also by the honor the BBB has bestowed upon the company. Royal Flush Havanese pursues a stringent code of ethics focusing on the health and well being of each dog and puppy and are available to guide new Havanese puppy owners in both choosing their pups and raising them to be consummate family companions.
Today, puppy mills housing hundreds of dogs are shut down on a routine basis because dogs and puppies are housed in unsanitary, overcrowded conditions lacking proper nutrition, grooming, exercise and socialization. Royal Flush Havanese follows BBB guidelines in their daily practices acting as role models in their field. The company offers a 6 year written health guarantee, promptly responds to customers questions and requests seven days a week, respects the privacy of its customers and the use of their personal information and approaches all transactions and commitments with integrity and honesty. As responsible Havanese breeders, high priority is placed on producing genetically sound, healthy, well socialized, happy Havanese puppies. To maintain a small scale, family business where each dog and puppy receives an abundance of love, socialization, exercise, top quality food and supplements in their home, Royal Flush Havanese limits its breeding adults to a maximum of 25. Each breeding adult is seen by the veterinarian at least twice a year to render certain that they are in excellent condition. The Havanese are immaculately groomed and their environment is impressively sanitary.
The Better Business Bureau's vision is of "an ethical marketplace where buyers and sellers can trust each other." Royal Flush Havanese is committed to that end. "It's refreshing to have the BBB monitor Royal Flush Havanese complaints and reviews insuring they are genuine and from real customers. Thank you BBB for putting consumers in touch with trustworthy, ethical companies," states Holly Anderson Mastroianni, owner. For further information, visit http://www.royalflushhavanese.com or call Holly at 401-864-3371.