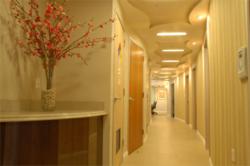 "Never again do you have to fear a visit to the dentist"
San Jose, CA (PRWEB) September 06, 2012
The San Jose dental practice of Dr. Heidari and the Serenity Dental Group announces the grand opening of their 2nd sedation dentistry facility, Serenity Dental Palo Alto.
Sedation Dentistry allows people who have neglected their teeth because of being terrified of the dentist and dental procedures, to finally get the care they need. The results can be life changing, and many of these people will experience restored chewing ability, a vast improvement in their appearance, an end to embarrassment, and an increase in self-confidence and self-esteem.
"Millions of people avoid going to the dentist, sometimes for decades, because of a tremendous dental fear and anxiety" says Dr. Heidari. "The result of this avoidance is poor dental health, which can lead to an overall degradation in their general health and well-being. We're excited about the opening of our new facility in Palo Alto which will enable us to provide our sedation dentistry services to the people in that area as well as San Jose."
At both the Palo Alto and San Jose locations, Dr. Heidari addresses and responds to these dental fears by providing various levels of sedation, ranging from the very light nitrous oxide or oral sedative, to the deepest IV intravenous sedation where a person virtually sleeps through their dental visit.
"Our dental facilities are state-of-the-art and our top priority is to make sure the patient is completely comfortable during their dental visit" says Dr. Heidari. "No matter how neglected their teeth might be, we can do whatever restorative dentistry or cosmetic dentistry procedures it may take to bring them back to optimal dental health."
About Serenity Dental Group:
As a leading San Jose Dentistry practice, Serenity Dental Group offers people with dental fears and phobias, as well as those with special needs, a place to have their dental work done in a relaxing environment. Dental procedures provided include composite fillings, teeth whitening, dental implants, porcelain veneers, porcelain crowns, and more. For more information about the Serenity Dental Group visit http://www.SerenityDentistry.com
Media Contact:
Dr. Heidari
Serenity Dental Group
408.999.0444
http://www.SerenityDentistry.com
###