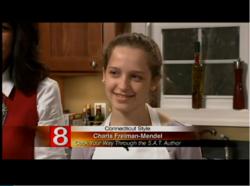 Steak and eggs definitely improved my SSAT scores!
Wallingford, CT (PRWEB) February 29, 2012
Charis Freiman-Mendel, author of "Cook Your Way Through The S.A.T.", returned to the "Connecticut Style" show to cook a hearty breakfast that boosts brain power for students taking the S.A.T. and other standardized tests. Freiman-Mendel appeared on "In The Kitchen" with hosts Jocelyn Maminta and Teresa LaBarbera. She demonstrated the "buttermilk biscuit with poached eggs florentine" recipe from her cookbook, a delicious, well balanced dish that is simple to prepare. She recommends a filling, high protein breakfast before the SAT because it offers long lasting energy and avoids the crash and burn that follows sugary meals. In addition to cooking, Freiman-Mendel offers students tips to improve performance on test day. The show airs on Wednesday, February 29, 2012 at 12:30pm and the segment can be seen thereafter on WTNH.com.
Freiman-Mendel notes research showing that eating a well balanced breakfast improves concentration, attention span and memory, and leads to improved test scores in both math and reading. She strongly recommends eating eggs as a first choice breakfast for test day. Eggs are a nutrient dense food containing high quality protein and essential amino acids that improve energy, endurance and memory, and help students absorb information, all needed for successful academic performance. Egg yolks contain choline, an essential nutrient that simulates brain development and brain function. Freiman-Mendel credits her high SSAT scores with her breakfast of steak and eggs on the morning of the test.
Freiman-Mendel offers tips for the night before the S.A.T. and other standardized tests:

Have a healthy dinner.
Don't cram.
Get a good night's sleep.
Pack your test kit with:
⁃ admission ticket
⁃ photo ID
⁃ sharp number 2 pencils with good erasers
- calculator with new batteries
- watch
A healthy breakfast is the foundation for a successful test day. Freiman-Mendel advises students not to skip breakfast and not to try new foods that might wreak havoc with the digestive system. She recommends making breakfast protein-based rather than carbohydrate based, to avoid foods such as sugary cereals and donuts, because empty calories leave students lethargic after an initial burst of energy. Protein meals sustain energy and go the distance for standardized tests.
In addition to "buttermilk biscuit with poached eggs florentine", "Cook Your Way Through The S.A.T." offers a number of other recipes for nutritious breakfasts and healthy snacks that work well for the day of standardized testing, including her personal favorite, "hummus with pita chips." Hummus is another filling, high protein food than promotes steady blood sugar and contains omega-3 fatty acids, which improve intelligence. Snacks are allowed during short, designated test breaks for the PSAT, SAT, ACT, SSAT and CAHSEE.
Freiman-Mendel suggests this checklist for the day of the SAT and all standardized tests, following breakfast:

Dress comfortably, in layers
Take a short walk to clear your head
Bring the test kit you prepared last night
Bring snacks
Leave early, allowing extra time to get to the test center
Trust all the work you have done to prepare
"Cook Your Way Through The S.A.T." is an innovative study guide for the SAT and all standardized tests. The book pairs each of 99 recipes with a fun fact blurb, a short paragraph about the recipe that helps students learn vocabulary and improve reading comprehension. It's available on Amazon, other online booksellers, and in bookstores.
For good cooking, fun facts, project-based learning, new vocabulary and information about standardized tests, order "Cook Your Way Through The S.A.T." and follow Charis through her blog, Facebook fan page and youtube channel. To feature Charis in your news media outlet, please contact: Charis(at)SATgourmet(dot)com.
###