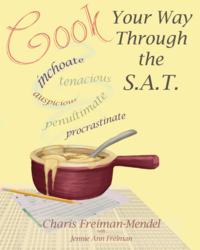 It's never too soon to start studying for the S.A.T. "Cook Your Way Through The S.A.T." can help.
Wallingford, CT (PRWEB) February 21, 2012
"Cook Your Way Through The S.A.T.," a cookbook that helps students prepare for the verbal section of standardized tests, continues to make the news! "Every Day With Rachael Ray" featured the book this month. Allyson Dickman, lifestyle editorial assistant for the magazine, noted, "The author of a new cookbook-meets-study guide says teens can learn tricky vocabulary words just by following a recipe. We feel smarter already." The story is paired with a photo of a bowl of steaming alphabet soup with letters spelling out "obsequious," an SAT word, floating on top. Cookbook author Charis Freiman-Mendel believes that cooking is an innovative tool that can help students build and retain an inventory of vocabulary that appears again and again on all standardized tests given for admission to high school and college. She strongly feels, "Cramming doesn't work, but if you use those unfamiliar words to make something delicious in the kitchen, they'll stick with you." Students who associate "obsequious " with a bowl of alphabet soup will never forget the meaning of that word!
"Cook Your Way Through The S.A.T." is available in public libraries across the United States and in the Hale Library at Kansas State University, which houses the largest library cookery collection in the country. The book was recommended in the February, 2012 "School Library Journal Grades 5 & Up Non-fiction" category. Recommending the book for grades 5 and above confirms Freiman-Mendel's view that preparing for the PSAT, SAT and ACT should start long before high school and long before students put the number 2 pencil to the test scantron. "No Child Left Behind" legislation has made standardized tests the new normal and a proxy for student success, so it's never too early to start preparing. Freiman-Mendel's book helps make learning vocabulary fun.
"Cook Your Way Through The S.A.T." has also been on the web. Fifi Flowers featured the book on her "Reading Is Fashionable" blog, noting, "I have had my teenage children (13 and 16) and some of their friends look at the book...and they liked the combination of food, cooking and eating...not wild about studying... BUT if they had to study this seemed like a GOOD way to do it..." Freiman-Mendel discussed kitchen bloopers with the Frugal Foodie at MintLife.com. Runner's Digest recommended Freiman-Mendel's video contest, which is open until March 5th, 2012 and offers a $250 first prize. She continues to invite videographers to submit a 60 second video showing "Cook Your Way Through The S.A.T." makes "learning a piece of cake."
"Cook Your Way Through The S.A.T." pairs 99 tasty, easy-to-prepare recipes with a fun-fact blurb," a short paragraph about the recipe. Each blurb contains 10 vocabulary words and is followed by a vocabulary match test. Students can check their work in the answer key for all 1000 words at the end of the book. The National Reading Panel concluded that:

learning vocabulary involves repetition and multiple exposures to words
should involve active engagement and rich contexts
should not be dependent on a single instructional method.
Freiman-Mendel's innovative book includes all of these recommended learning strategies to help students improve vocabulary and reading comprehension, and ace the verbal section of all standardized tests. The book is available through Amazon, online booksellers and in bookstores.
For good cooking, fun facts, project-based learning, new vocabulary and information about improving standardized test performance, order "Cook Your Way Through The S.A.T". and follow Charis through her blog, Facebook fan page and youtube channel. To feature Charis in your news media outlet, please contact: Charis(at)SATgourmet(dot)com.
###