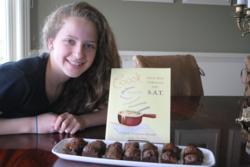 Wallingford, CT. (PRWEB) April 30, 2012
Cookbook author Charis Freiman-Mendel is expanding her blog to include regular reviews of cookbooks and books for foodies of all ages. Adding cookbook reviews is a natural extension of the blogging about food and words she's been doing since publication of her book, "Cook Your Way Through The S.A.T." Cookbook reviews capture the latest culinary trends and are a fun way to crowdsource great recipes, offer food product reviews and recommend vendors that supply unique and fresh ingredients.
Freiman-Mendel recently reviewed "Funny Food," a book by Bill and Claire Wurtzel that shows readers how to transform breakfast from a mundane, daily chore to an opportunity to get the creative juices flowing by making the first meal of the day a form of edible art. Freiman-Mendel noted, "Parents can no longer admonish their kids, 'don't play with your food,' thanks to the recently published, "Funny Food," a book that makes fooling with food a high art form." She recommended the book because it encourages quality family time, collaborative food preparation, and empowers kids to learn about nutrition, make good food choices and use their imagination, the identical goals of her book, "Cook Your Way Through The S.A.T." Familes cooking together promote healthy habits and make learning fun.
Freiman-Mendel also recommends the recently published "Zuppe," an inspiring testament to collaborative cooking from the Collaborative Food Project, the mess hall for the consortium of artists working at American Academy in Rome. The group is committed to sustainable eating and the book is the second in a cookbook series that began with "Biscotti." Author Mona Talbott offers 50 soup recipes that are simple to prepare, economical, and use seasonally available fresh ingredients. Freiman-Mendel tested two of the recipes, cauliflower soup and lentil carrot soup, using organic ingredients readily available in her local health food store.
Freiman-Mendel has a busy spring lineup for cookbook reviews. During the next few months she will test recipes and blog about these new cookbook offerings: "Mindful Eating" by the staff at Miraval Resort in Tuscon, Arizona, "Ripe" by Cheryl Sternman Rule, "The Truck Food Cookbook" by John T. Edge, "The Naked Foods Cookbook" by Margaret Floyd and James Barry, and the "Eat-Clean Diet Vegetarian Cookbook" by Tosca Reno. Freiman-Mendel will be running a contest with the folks from "The Dukan Diet Cookbook." She invites readers to join in on the cooking and conversation, using these cookbooks and "Cook Your Way Through The S.A.T." to enjoy the pleasures and rewards of food preparation.
Freiman-Mendel has also become a contributing writer for the website http://www.bodychecklist.com, whose audience is dedicated to living well through health, fitness and diet. She is planning a series of articles on healthy colorful food, starting with a menu for foods that are black. She welcomes questions and invites recommendations for post topics from readers.
Charis Freiman-Mendel has her hands in many pots! For great cooking, fun facts, project-based learning, new vocabulary and strategy for improving standardized test scores, order "Cook Your Way Through The S.A.T" from Amazon or other online booksellers, and follow Charis on her blog. To feature Charis in your news media outlet, please contact Charis(at)SATgourmet(dot)com.