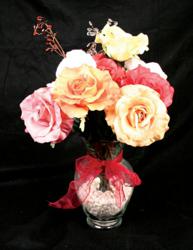 These flowers look, feel, and smell exactly like a real flower.
Parsippany, NJ (PRWEB) December 14, 2012
Valentine's Day – It's the time of year when love is all around. People want to express they care, but in the most unique and creative way possible. A simple, perishable flower won't be enough to show undying affection. Something better is needed – something as timeless and infinite as the love one feels to get the message across, but what?
Stemming from extensive experience in fragrance and home décor, the specialists at Jodhpuri Inc. have developed a new type of flower. Jodhpuri Inc. is announcing the launch of their new "Scented Real Touch Flowers" product line. The "Real Touch" name reflects the flowers' realistic, natural, and smooth feel. Formed by high-precision molds, these intricately designed flowers have a natural and realistic look. The amazing elasticity of the stems, foliage, and buds imitate the flexibility of real flowers. Most importantly, Jodhpuri's unique fragrances are embedded into the flowers, giving them a pleasant scent that will last for years to come.
The stems are available in various elegant flower varieties such as roses, tulips and many more. They are also available in multiple colors. Jodhpuri's Scented Real Touch Flowers are perfect for weddings, parties, gifts of love and messages. Also, since Scented Real Touch flowers will never wither, they are the perfect low-maintenance home décor item to place in vases or bowls around the house. Place Scented Real Touch Flowers anywhere, without the need for sunlight or water to change the atmosphere of any room.
This coming Valentine's Day, shoot an arrow through your lover's heart. Make this Valentine's Day one that your valentine will never forget with Jodhpuri's Scented Real Touch Flowers.
For more information, or to see Jodhpuri's entire product line, please visit http://www.jodhpurionline.com. Jodhpuri products are also available on http://www.amazon.com, search word "Jodhpuri."
Headquartered in Parsippany, NJ, Jodhpuri Inc. is a leading manufacturer and distributor of Home Fragrance products such as Reed Diffusers, Potpourri, Incense, Scented Real Touch Flowers, Water Acrylics, Artificial Greenery, and home décor items for over 23 years.
Jodhpuri Inc has a patent pending on "Scented artificial flowers" directed to artificial "Real Touch Flowers™".