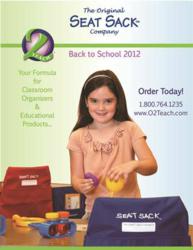 I made my list and checked it twice~Christine Stevens, Indianapolis,IN
Naples, FL (PRWEB) July 10, 2012
In July, The Original Seat Sack Company launched their new digital catalog featuring Seat Sack Organizers and O2Teach Educational Products just in time to get teachers and students excited about the new school year. The Back to School 2012 Catalog features their internationally recognized patented Seat Sack storage pouch as well as their "must have" back to school colorful Strap-n-Sack pencil pouches. Under their "Organize to Teach" brand name, O2Teach, the company offers products that invite students to explore fine and gross motor skills, creativity, social skills, theme-based learning, imaginative play, as well as language, math, science and social studies resources.
As the company has become more aware of the environmental impact of mass mailers, the decision to create a user friendly online digital catalog using the PageTurnPro software became a viable method to engage customers with a deeper media experience in addition to being more environmentally conscious. The digital catalog gives the customer the feel of flipping through a published catalog, but allows them to immediately click to order, view more information and even allows the presentation of videos.
To promote the new digital catalog, The Original Seat Sack Company has created a special offer for teachers who take the time to create a "Wish List". The website powered by Network Solutions allows teachers to create a shopping list that can be shared with their students' parents, the school principal, the district purchasing agent, family or anyone who may want to contribute to their classroom needs. As customers flip through the new Back to School 2012 digital catalog, customers are encouraged to set up a shopping list via instructions listed on the website. Customers who follow the instructions and create a "wish list" will be treated to a free gift from the company. "I made my list and checked it twice!" exclaimed Christine Stevens of Indiana, an excited customer who was the first to make her wish list.
In addition to this promotion, the company is currently running their "Formula for Successful Teaching Giveaway". Each month an entrant is selected to receive $250 worth of educational products. Entrants submit their school or classroom teaching strategies that are making a difference in the education of students. This promotion runs through December 2012.
Information about both of these programs can be found on The Original Seat Sack Company website, http://www.seatsack.com. The company located in Naples Florida is known worldwide for helping teachers and parents to organize and educate students with quality products for over 13 years.