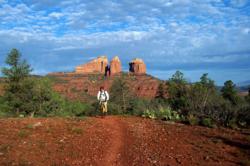 "Sedona is one of the best places in the world to ride and hike," said Rob Holeman, General Manager. "I go out early Sunday mornings and invite mountain bike riders staying with us to join me."
Sedona, Arizona (PRWEB) July 12, 2012
When staying at Sedona Real Inn & Suites the entire panorama of red rock adventure lies at your doorstep. And now the Sedona Real is proud to announce its hiking and biking packages starting at $380 plus tax. The Hike Sedona Vacation Package includes a two-night stay, a red rock pass, a gift certificate to the Hike House, a gift backpack and a high protein expanded continental breakfast. The Bike Sedona Vacation Package includes a two-night stay, a high protein expanded continental breakfast, bike rental with helmet and a 2 1/2 hour bike tour with a gourmet box lunch.
Sedona offers outdoor enthusiasts miles and miles of hiking trails that offer a range of beginner to advanced bike trails, all with spectacular red rock views. From the Sedona Real, mountain bikers can head out in almost any direction to access the best of Sedona's singletrack. North is the Thunder Mountain Trail which connects to the North Urban network all the way through Secret Trails to Jim Thompson, Huckaby and beyond. Heading west and south will bring you to Red Rock Crossing, Buddha Beach, Baldwin, Templeton and even to Llama for those strong of lungs and legs. Or Girdner down the Dry Creek drainage, which can be interesting during the monsoon, through to Idaho or the many other trails in the Dry Creek Valley and back by way of Thunder Mountain. The really best ride is to head out Dry Creek Road, then Vultee Arch Road to the first left and out onto the point to watch the sunset, and maybe even the moonrise, which is absolutely incredible! Be sure to bring lights for the ride home.
An avid rider, Rob Holeman, General Manager of the Sedona Real often leads a bike ride early on Sunday morning. Check with the concierge to see if there is a ride going out and be sure to sign up for the ride in the lobby on Saturday.
For hikers, only a mile or so from the Sedona Real, out Dry Creek Road, are the trails off Vultee Arch Rd (FS152), including Devil's Bridge, Secret Canyon, Brin's Mesa and Vultee Arch. Or further out to Boynton Canyon, Fay Canyon, Doe Mesa and Bear Mountain. And the cool shady trails along Oak Creek are just down the hill. It is all at your doorstep!
The Sedona Real Inn & Suites features 89 guest rooms including 47 newly remodeled suites. Amenities include spectacular red rock views, an expanded continental breakfast, flat screen television, microwave, refrigerator and wet bar, in room high-speed internet access, large heated pool, whirlpool, exercise facility, family and pet-friendly park and concierge service.
Recently the Sedona Real Inn & Suites received a TripAdvisor® Certificate of Excellence award. The accolade, which honors hospitality excellence, is given only to establishments that consistently achieve outstanding traveler reviews on TripAdvisor, and is extended to qualifying businesses worldwide. Approximately 10 percent of accommodations listed on TripAdvisor receive this prestigious award. To qualify for the Certificate of Excellence, businesses must maintain an overall rating of four or higher, out of a possible five, as reviewed by travelers on TripAdvisor. Additional criteria include the volume of reviews received within the last 12 months.
The Sedona Real Inn & Suites is on the corner of 89A and Dry Creek Road at 95 Arroyo Pinon Drive, Sedona, AZ 86336. For more information call toll free 800.353.1239 or visit http://www.SedonaReal.com.