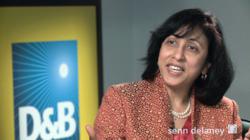 The real role of the leader is building the culture. I think I am the architect of the culture. The organisation is actually a mirror for how I behave. --Sara Matthew, chairman and CEO, Dun & Bradstreet
London, UK (PRWEB UK) 8 August 2012
"The real role of the leader is building the culture. I think I am the architect of the culture. The organisation is actually a mirror for how I behave," states Dun & Bradstreet Chairman and CEO Sara Mathew in the latest video in culture shaping firm Senn Delaney's thought leadership series.
Dun & Bradstreet is a global public company that licenses information on businesses and corporations on more than 205 million companies worldwide for use in credit decisions, business-to-business marketing and supply chain management.
In an interview on leadership with Robert Reiss, host of The CEO TV Show, Mathew talks about the "values, competencies and attributes" that make up her company culture, which aspires to win with the customer, shareholders and team mates. But she states that the true essence of her leadership or any CEO's leadership is ultimately about behaviour. At Dun & Bradstreet, she strives as the leader to "define reality, create hope and convert hope into a new reality and do it in a way that is very tangible to the team that is expected to follow the leader. That starts with clarity of purpose."
"I encourage leaders to watch this video because I believe there are a number of great lessons here for all leaders, and especially for CEOs who want to be Thriving leaders and create Thriving organisational cultures," states Senn Delaney Partner and Executive Vice President Mike Marino. He also shares lessons for other CEOs in this Senn Delaney video.
"Sara innately possesses the key traits of Thriving, including her understanding of the power of the Shadow of the Leader phenomenon, and the need to have a strong and articulated sense of purpose. Purpose is the single most important and powerful part of creating a Thriving organisation," states Marino. "Leaders need to have a purposeful way of taking their organisations forward. It doesn't happen by chance, it happens on purpose."
Other recent CEO interviews in the Senn Delaney thought leadership video series include:
Yum! Brands CEO David Novak shares insights on creating an iconic recognition culture that drives global performance and growth
David Novak was recently honoured as 2012 CEO of the Year by Chief Executive magazine. In this Senn Delaney video, Novak describes how he focused on building a recognition culture across 117 countries and 1.4 million employees. Senn Delaney Chairman Dr. Larry Senn also examines why Novak exemplifies a Thriving leader and shares lessons for other CEOs to successfully lead culture transformation.
Piedmont Natural Gas CEO Tom Skains describes the positive impact of creating a healthy, high-performance culture called Piedmont Pride
Piedmont Natural Gas Chairman, President and CEO Thomas E. Skains has focused on creating a high-performance culture called Piedmont Pride at the utility since he became CEO in 2003. In this interview with Senn Delaney Partner and Executive Vice President Nick Neuhausel, Skains explains why the culture has been the single most important factor in achieving stellar financial results, improving customer satisfaction and providing a Thriving work environment that engages workers and attracts the best talent.
These CEO video interviews are part of Senn Delaney's thought leadership video series on culture shaping. These videos and dozens more can be viewed on Senn Delaney's video channel, SDTV. Senn Delaney launched SDTV as a video learning forum with engaging, thought-provoking content that will be of greatest interest to CEOs, executives and senior business leaders. SDTV features interviews with prominent CEOs and top leaders, case studies and discussions on why organisational culture is a key driver of business performance. Several Senn Delaney leaders share insights from 35 years of work focused solely on guiding Global 1000 and Fortune 500 companies to create high-performance cultures.
About Senn Delaney
Founded in 1978, Senn Delaney is widely recognised as the leading international authority and successful practitioner of culture shaping that enhances the spirit and performance of organisations. Senn Delaney's passion and singular focus on culture, combined with decades of hands-on experience, have resulted in a comprehensive and proven culture-shaping methodology that engages people and measurably impacts both the spirit and performance of organisations.
Visit Senn Delaney's new thought leadership video channel, SDTV, for expert advice on best practices in culture shaping, CEO interviews on leadership and leading culture, client success stories and more.