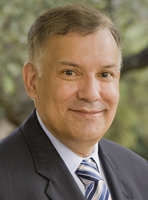 "I am the Chief Culture Officer. I make sure that the tone I set and the culture that I reinforce and push is something that will be perpetual and is right for our members and our employees." -- USAA CEO Joe Robles
London (PRWEB UK) 9 October 2012
In a newly released video, which is part of culture shaping firm Senn Delaney's "best practice" thought leadership series, Chief Executive Officer Gen. Joe Robles reveals the recipe for USAA's continued success, and talks about his critical role as Chief Culture Officer. Senn Delaney President and CEO Jim Hart also shares best-practice lessons on successfully shaping a culture based on key principles developed from 35 years of experience transforming organisational cultures.
With 23,000 employees serving 9.1 million members, USAA is one of America's best-rated companies in financial performance and customer service. CEO Robles credits this success with staying laser focused on its culture to be better and better at serving its military members and their families. The video interview shares his perspectives and provides lessons for other leaders who are striving to improve performance.
"I am the Chief Culture Officer," Robles says in the interview with Robert Reiss, host of The CEO TV Show. "I make sure that the tone I set and the culture that I reinforce and push is something that will be perpetual and is right for our members and our employees."
Robles attributes a big part of USAA's success to the passionate commitment of leaders and front-line employees to USAA's six cultural values called 'My Commitment to Service' and to working from a higher purpose of serving military families. "The success of USAA over the last 90 years has been driven primarily by our culture. But every once in a while, you've got to refresh the culture," says Robles. "We did this a couple of years ago with a company called Senn Delaney who helped us improve our culture, and take it to a higher level. This has really shown up and paid off in our business operations recently."
Robles describes the importance of everyone, from the top tier of leaders to front-line employees, being aligned around and living the six "My Commitment to Service" values. "What those commitments do is keep us focused on our customer; keep us focused on what we do well and how we do it; and keep us focused on making sure that we will perpetuate this great institution for the next 90 or hundred years."
"Our work with Joe Robles on the USAA culture has been inspirational and gratifying," states Senn Delaney CEO Jim Hart. "USAA is a well documented, perennial leader in customer and member satisfaction and loyalty, and it has experienced outstanding financial results. The 'secret sauce' is that more than 23,000 employees serve more than 9.1 million members with love, compassion and a deep sense of purpose. As the self-described chief culture officer, Joe knows that it is USAA's committed and engaged employees who make the difference every day in the lives of its members."
Hart notes that one of the key leadership lessons from CEO Robles is "how important it is for a leader to have a compelling purpose for their organisation in order to inspire their employees in their relationships with their customers. As chief culture officer, Joe's leadership from the front, grounded in that higher purpose, inspires and drives the employees. New employees spend as much as four days in an orientation, and a big part of that is being grounded on USAA purpose and values. Joe knows there are real business rewards for this investment, as proven by numerous research studies that demonstrate that companies with compelling purposes and aligned core values outperform their competitors by up to four times in revenues and 12 times in shareholder value."
Other recent CEO interviews in the Senn Delaney thought leadership video series include:
Yum! Brands CEO David Novak: In this Senn Delaney video, Novak describes how he focused on building a recognition culture across 117 countries and 1.4 million employees. Senn Delaney Chairman Dr. Larry Senn also examines why Novak exemplifies a Thriving leader and shares lessons for other CEOs to successfully lead culture transformation.
Piedmont Natural Gas CEO Tom Skains: In this interview with Senn Delaney Partner and Executive Vice President Nick Neuhausel, Skains explains why the culture has been the single most important factor in achieving stellar financial results, improving customer satisfaction and providing a Thriving work environment that engages workers and attracts the best talent.
These CEO video interviews are part of Senn Delaney's thought leadership video series on culture shaping. These videos and dozens more can be viewed on Senn Delaney's video channel, SDTV. SDTV features interviews with prominent CEOs and top leaders, case studies and discussions on why organisational culture is a key driver of business performance. Several Senn Delaney leaders share insights from 35 years of work focused solely on guiding Global 1000 and Fortune 500 companies to create high-performance cultures.
About Senn Delaney
Founded in 1978, Senn Delaney is widely recognised as the leading international authority and successful practitioner of culture shaping that enhances the spirit and performance of organisations. Senn Delaney's passion and singular focus on culture, combined with decades of hands-on experience, has resulted in a comprehensive and proven culture-shaping methodology that engages people and measurably impacts both the spirit and performance of organisations.
Visit Senn Delaney's new thought leadership video channel, SDTV, for expert advice on best practices in culture shaping, CEO interviews on leadership and leading culture, client success stories and more.