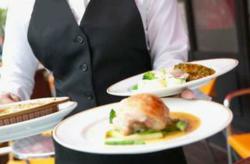 Chicago (PRWEB) November 01, 2012
Sertifi, a leading electronic signature company, will host a complimentary webinar on Tuesday, Nov. 20 at 1 p.m. CST to highlight the many benefits of using eSignatures for catering forms, BEOs and other hospitality agreements that require signature.
Doug Rae, sales director, will host a 30-minute webinar for hotel, resort, catering, event planning and other hospitality companies. The free webinar will include a demo of both the signer and sender experience followed by a short Q&A period for attendees to ask questions.
WEBINAR INFORMATION
Webinar Invitation: Sertifi eSignatures for Catering, BEOs & Other Agreements
Date/Time: Tuesday, Nov. 20 at 1 p.m. CST
Reserve Webinar Seat: http://bit.ly/SertifiHospitality
About Sertifi
Sertifi's solutions speed the last mile in the sales process enabling organizations to shorten their sales cycle and increase close rates. Sertifi offers organizations a better way to connect with customers, negotiate deals and close agreements with electronic signatures.
Contact Us
To learn more about Sertifi and its eSignature tools, call 866-983-8877 or email sales(at)sertifi(dot)com to request further information.