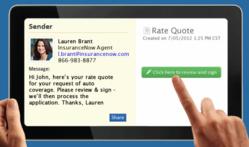 Chicago (PRWEB) August 09, 2012
In preparation of 2012 TENCon, an annual insurance conference presented by ASCnet and Applied Systems on Aug. 20-23, Sertifi will conduct a free informational webinar on the benefits of utilizing eSignatures within the insurance industry on Thursday, Aug. 16 at 2 p.m. EDT.
The complimentary webinar will address the many advantages of P&C, life and auto insurance carriers using electronic signatures to execute contracts and close business while improving customer satisfaction and retention. Unlike insurers that rely on the traditional pen and paper method of signing documents, Sertifi customers enjoy straight-through processing. Benefits of using Sertifi's time-saving solution include:

Showcases engaging sender (agent) profile
Enhances way to collaborate and negotiate contracts
Executes contracts quickly and easily
Provides reporting and real-time status of contracts
Includes option to send automatic signature reminders
Increases agent productivity and time spent with customers
Reduces expenses involving paper cost, scanning, faxing, etc.
And much more!
Register Now!
Visit http://bit.ly/eSignatureInsurance to register for the webinar that will include a live eSignature demo followed by a brief Q&A session. To learn more about Sertifi and its eSignature tools, call 1-866-983-8877 or visit their website: http://www.sertifi.com
About Sertifi
Based in Chicago, Sertifi provides business tools that speed up the last mile in the sales process enabling sales teams to shorten their sales cycle and increase close rates. Sertifi's business tools allow companies to better collaborate with customers, close and execute agreements with electronic signatures, and track status in real time.
Sertifi provides the industry's leading Web service API, which enables integration into existing systems, or pre-built connectors into leading platforms such as Salesforce and Microsoft Dynamics CRM. Sertifi is trusted by leading companies including CareerBuilder, Microsoft, Pitney Bowes and the U.S. Air Force.