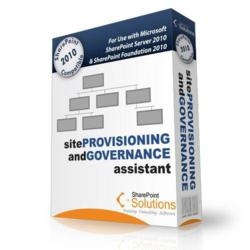 ExCM and SPGA definitely provided what was needed for our extranet solution. The ROI has been huge.
Nashville, TN (PRWEB) September 27, 2012
Plante Moran, the nation's 12th largest certified public accounting and business advisory firm, has saved more than $260,000 by using Site Provisioning & Governance Assistant (SPGA), according to Brian Dunat, Plante Moran's SharePoint/Database Architect.
SPGA, which was created by SharePoint Solutions, provides companies with a simple and consistent method for creating and configuring new SharePoint 2010 sites.
In a recent case study for SharePoint Solutions, Dunat described how Plante Moran used Lotus QuickPlace to collaborate and share files with its geographically dispersed staff and clients.
In addition to QuickPlace, the firm had several locations where staff members could store data, making it confusing and inefficient to manage their data. Plante Moran began a content management initiative to simplify storage of its staff and client data and upgrade its extranet solution.
The Plante Moran Technology Services Team started by evaluating other products that were not SharePoint specific, but concluded that SharePoint Server 2010, a business collaboration platform, was the best fit for the firm's needs. After reviewing competitive products, they chose Extranet Collaboration Manager (ExCM) for SharePoint Server 2010 and SharePoint Foundation 2010, a SharePoint Solutions add-on that creates, secures, manages, monitors and streamlines a company's extranet.
While working on the Plante Moran extranet project, the team began interacting with vendors to do provisioning and found their tools were not adequate to handle Plante Moran's requirements. Given the team's success with ExCM, it turned to SharePoint Solutions' Site Provisioning & Governance Assistant for help with creating, configuring and controlling new SharePoint 2010 sites.
"Based on our requirements, to manually create a client site we average about two hours and another two hours to build an engagement site—plus there's always opportunity for human error," Dunat explained. By using SPGA he estimated that the team invested about 500 hours to design the provisioning process.
To date, Plante Moran has provisioned roughly 500 client sites and 1,500 engagement sites. He estimates that SPGA has saved the firm about 3,500 hours.
The more than $260,000 Plante Moran has so far saved doesn't count time it didn't have to spend creating customized My Site, Team and Project provisioning profiles.
"We've definitely seen a huge return on investment," he said.
Dunat noted that Plante Moran also uses SPGA to handle parts of account management, such as allowing a client to initiate a workflow and add members to his or her group. "If we had gone the manual route, we never would have been able to scale to the volume of sites we have today."
Plante Moran also retained SharePoint Solutions to build custom activities defined within SPGA and to write custom code. Software Product Manager Jeremy Luerkens, who created SPGA, was Dunat's primary contact.
"Jeremy is so knowledgeable and so helpful. We'd push as far as we could, then call Jeremy for the next steps and he'd tell us how to do it. He's very interested in how we are leveraging SPGA and wants to see if he can enhance the product further. Our firm and SharePoint Solutions have a strategic partnership," Dunat said.
"ExCM and SPGA definitely provided what was needed for our extranet solution," he concluded, stressing, "The ROI has been huge."
Based in Nashville, Tenn., SharePoint Solutions is a Microsoft Certified Partner and a nationwide leader in expert-led classes on SharePoint products and technologies. The company's software division professionally develops high-quality commercial add-ons for SharePoint. For more information about SharePoint Solutions, visit http://sharepointsolutions.com.
###