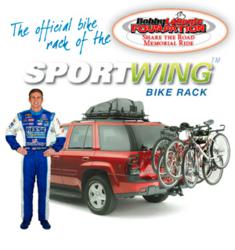 "We've seen tragedy here in the Charlotte region, but as a cycling community, we know this happens everywhere," said Bobby Labonte, 2000 NASCAR Champion and fouundation founder.
Solon, OH (PRWEB) February 29, 2012
Cequent Consumer Products with its SportWing™ Bike Rack announces it will sponsor the second annual Archdale Drug "Share the Road" Memorial Bike Ride that is organized by the Bobby Labonte Foundation. The bike ride is planned for Sunday, May 20, 2012, with registration at 12:00 p.m. and the ride at 1:00 p.m., that will start and finish at Wheatmore High School in Trinity, N.C., the hometown of 2000 NASCAR Champion, Bobby Labonte. Labonte, an avid cyclist, will ride in the 100 kilometer route. Cequent's SportWing™ bike rack is the "Official Bike Rack" of the event and is a way that Cequent can continue to support Labonte on and off the track. The Memorial ride will benefit the Bikes Belong Foundation and also Randolph County Schools and their Backpack Pals program.
In only its second year, the "Share the Road" Memorial Ride continues to have tremendous support from local and national sponsors whose support will benefit the two causes. Archdale Drug has continued their title sponsorship on a local level and nationally, Cequent Consumer Products and their SportWing™ bike rack will continue their involvement by being the "official bike rack of the ride". The top male and female riders of the 100 kilometer will be given a SportWing™. Cequent Consumer Products is also currently hosting an online promotion open to anyone where one fan will win a SportWing™ bike rack. Additional sponsors include CLIF bar and more to be announced later.
"The SportWing™ bike rack holds ANY bike securely by the wheels and is the ultimate solution for transporting your bikes," said Shannon Ketvertes, Communications Manager, Cequent Consumer Products. "We remain committed to safety for all of products including our bike racks, cargo securing and hitch products and sponsoring Bobby and this event provides us a great way to showcase our products." Cequent has sponsored Labonte and JTG Daugherty Racing in the Sprint Cup chase in both 2011 and 2012.
The event will profit the Bikes Belong Foundation to raise awareness and funds for cycling safety and children's bicycle programs. The Memorial ride was born after two cyclists were killed while riding in the Charlotte and Greensboro, N.C. regions in 2010 and 2011. The "Share the Road' title is meant to remind motorists of cyclists on the road.
"We've seen tragedy here in the Charlotte region, but as a cycling community, we know this happens everywhere," said Bobby Labonte, founder of the Foundation with his wife, Donna. "By partnering with a national organization like Bikes Belong, we're not only going continue to bring awareness here, but also help those across the country."
"We're very thankful to have both the communities support and Bobby's sponsors and partners get involved," said Donna Labonte. "This ride was something we felt like was important to do to help educate people on bike safety and also give back to our schools and children in need. Without the support from our sponsors, we couldn't make such an impact. They are really important in making this event grow."
The ride will help support Randolph County Schools and the Backpack Pals program that meets the needs of hungry elementary students by sending home a backpack of nutritious food. All are encouraged to bring an essential item such as canned meat items, juice boxes, cereal bars, fruit cups, crackers and pudding cups to donate to the program.
More about the Ride:
•Will consist of three different routes this year with various distances of 50, 70 and 100 kilometers through the rolling hills of Randolph County
•Will feature live timing and scoring.
•The challenging courses were mapped by a USA Cycling-sanctioned team member
•Rides for both the recreational cyclist and experienced cyclists.
•Costs: The pre-registration cost is $25 for a member of a team of eight and $30 for an individual rider. Day of Registration available for a cost of $35.
•The first 300 registered cyclists will receive a goody bag.
For more information and to register for the Share the Road Memorial Ride please visit http://www.bobbylabontefoundation.org/events.
ABOUT CEQUENT CONSUMER PRODUCTS:
Cequent Consumer Products, Inc, is the industry's leading designer, manufacturer and marketer of innovative consumer products for the automotive aftermarket industry. For more than 85 years, Cequent Consumer Products, located in Solon, Ohio, has produced some of the most dependable products in today's market including superior-quality towing and hitch systems, trailer components and accessories, as well as electrical, brake, cargo carrying and rack systems for cars and trucks. Our established brands are sold through leading automotive retailers nationwide. Our brands are leaders in the industry and include: Reese Towpower, Highland, Rola, Fulton, and Bulldog. Cequent Consumer Products is part of the Recreational Accessories business segment of TriMas Corporation headquartered in Bloomfield Hills, Michigan. Visit CequentConsumerProducts.com
The SportWing™ bike rack
Is sold by Cequent Consumer Products by the brands Highland® and Reese® Carry Power. For more information about how to enter to win the SportWing™ bike rack, please visit http://www.bobbylabontefoundation.org/ or go to http://www.CequentConsumerProducts.com.
About the Bobby Labonte Foundation:
The Bobby Labonte Foundation is a non-profit organization that was started by Bobby and Donna Labonte in 2003. The organization is dedicated to providing aid for a variety of charities throughout North Carolina, Labonte home state. The Foundation supports local families by providing food, shelter and clothing. http://www.bobbylabontefoundation.org/.
About Bikes Belong:
Established in 2006, Bikes Belong is based in Boulder, Colorado and is sponsored by the U.S. bicycle industry. It goal simple: to make bicycling safer, get more kids riding, and improve the health and quality of life for Americans with the goal of putting more people on bicycles. With nearly 400 members—bicycle suppliers and retailers combining resources to improve bicycling in America. Visit http://www.bikesbelong.org/
Contact Information:
Jeff Dennison; Breaking Limits
403 Gilead Road, Suite A
Huntersville, N.C. 28078
Office: 704-766-9060
Mobile: 704-252-3356
E-mail: jdennison(at)blmarketing(dot)net
Cequent Consumer Products
Shannon Ketvertes
29000-2 Aurora Rd.
Solon, OH 44139
Office: 440.519.8066
Mobile: 440.264.3968
Email: Sketvertes(at)cequentgroup(dot)com
###