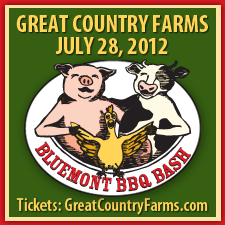 Great Living begins in the Blue Ridge Shenandoah Valley
Bluemont, Virginia (PRWEB) July 25, 2012
What is it with BBQ in this country? Americans go wild over cooking outside on the grill, the pit, or whatever. It is just simply outdoor fun. Because Americans also are competitive in nature, there are the BBQ competitions. One of the most highly regarded are the KCBS (Kansas City Barbeque Society) competitions. There are 400 plus in the country. Recognizing barbeque as America's Cuisine, the mission of the Kansas City Barbeque Society is to celebrate, teach, preserve and promote barbeque as a culinary technique, sport and art form. Master Judge Reid Bechtle said, "A BBQ competition represents 'Classic America'. You have the professional chefs, doctor, engineer, plumber - all are just people who love BBQ and love to eat and have fun!"
This Saturday is the Second Annual Bluemont BBQ Bash at Great Country Farms. An easy one hour drive from Washington DC, this event is part of Go Blue Ridge Travel's Kids Bucket List Summer Campaign showcasing great kids activities and experiences for young people under eighteen years old.
One of the most well known competitors coming to the Bluemont BBQ Bash is Tuffy Stone of Cool Smoke. A distinguished chef and owner of A Sharper Palate Catering Company, a high end catering firm in Richmond, Virginia, Tuffy realized that he had become disconnected with cooking handling the administration side of his catering business. I wanted a culinary challenge and decided to develop a new technique of cooking BBQ - with a slow wood burning fire.
We have been very fortunate winning the national competition in several categories. This has also led to television appearances including CBS's "Ultimate BBQ" and appearing as a judge on 'Destination America' BBQ is hard work and humbling. You are cooking a lower cut of pork or beef so finishing with a product that is delicious is a culinary challenge. When I cook competitive BBQ, there are no emails, no cell phones, no computer; it is all about the food and winning. I remember the first contest we did; we did not know the background of our competitors so my partner struck up a conversation with our neighbors. He was tooting my whistle about the great chef I was. Then he asked what they did. We are engineers with the space shuttle program here in Huntsville, Alabama. They cooked some good BBQ too!
This is the second year for Great Country Farms to host a KCBS BBQ competition. "We have doubled the number of competitors competing. Plus this year, our event is a 'State Certified' BBQ competition. This means the governor has signed off on our event and our winner can move on to the national competition. This upgrades the level of competitors coming in. Many say they are doing it for the "Fun and Love of it" but this is serious BBQ. Tuffy Stone is now opening his fifth Q Barbecue Restaurant. Other national winners coming to the event is Dizzy Pig BBQ, Pork Barrel BBQ, and Chix, Swine, & Bovine BBQ.
Both the judges and the competitors say they are excited to come because of the area. This setting could not be more perfect - the mountains, a successful family farm business with some of the best hiking, biking, and watersports in the country. "It is beautiful here in the Blue Ridge Shenandoah Valley," said Tuffy. "My dad is coming because it is here in the Blue Ridge."
Bluemont Vineyard will be showcasing their blackberry wines. Voted the Best View of any Virginia Winery, driving up the hill to the tasting room one is aware of the agricultural presence in Loudoun County. Another change to the event is the Taster's or People's Choice judging. Most people do not realize that when they come to a KCBS BBQ event only the judges are tasting the BBQ. So this year, Kate Zurchmeide saids, "Cookology of Dulles Town Center is donating all the pork butts with the competitors agreeing to cook them. Cookology is a great partner for us. Our goal here at Great Country Farms is to provide an children's farm experience where childhood memories of picking blackberries or picking farm crops that Cookology then gives them a hands on cooking experience. The ticket sells for the Tasters Choice Ticket goes to Loudoun Interfaith."
The event is not just about BBQ. While you are here, plan on taking a hayride out for u-pick blackberries, which will be at their peak. The berries are thorn less and trellised for easy picking and are pesticide free! In addition to all the wonderful food, you can cheer on a favorite local restaurant during the Waiters Race as they compete for the top prize. After all the excitement wind down with a wine-tasting by Bluemont Vineyard, featuring blackberry wine. Kids can also have fun in our 5 acre play area and Tye-dying one of GFC's infamous "Got Berries?" T-shirts.
Fall is just around the corner. Go Blue Ridge Travel will be spotlighting the best fall festivals. Check out the new cabins and camp grounds in the Shenandoah Valley.