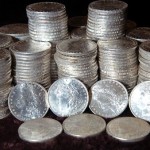 London, UK (PRWEB) November 10, 2012
The team at the silvercoinexpert.com website has created a new and unique method of investing in silver. Visitors to the site can reserve their spot on one of the daily webinars held by silver expert Justin Trombold. To reserve a space on one of the webinar visitors can go to the website and book a date and time that is the most convenient for them.
So why invest in silver and silver coins in particular? Silver has outperformed all other precious metals in the commodity market in the year to date and offers a better return than gold for a fraction of the initial investment. In the third quarter of this year from July to September the spot price of silver rose by 25.2%. The demand for silver coins has also been rising steadily with more than 3 million American Silver Eagle coins ordered from the US Mint in September.
The program outlined in the webinar is a unique opportunity to build a collection of tangible assets in the form of silver coins as a well as a passive income. Each month the program allows investors to build an inflation proof collection of physical assets and a passive income by offering the same opportunity to their friends and family members. It is a proven system backed by the internationally renowned coin dealer ISN. The webinar is a step by step guide to creating and protecting wealth and assets in these economically uncertain times.
Places on the daily webinars are limited to just 300.There has never been a better time to start building a collection of tangible assets to protect wealth and create an inflation proof income for the future.
About silvercoinexpert.com
The http://silvercoinexpert.com/ website is a complete resource for collectors of silver coins and anyone who wishes to invest in silver. Featuring informative articles, daily blog posts and up to date silver prices from the international commodity markets the site has everything a collector needs to stay up to date.