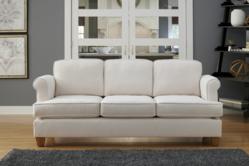 …Amazing! Wish I had known about Simplicity Sofas as I was writing my last book. The world can learn a lot by examples set by the best of the best."
Shep Hyken, New York Times best-selling author of "The Amazement Revolution"
High Point, NC (PRWEB) December 19, 2012
The 2012 winner of the $20,000 SMB Innovator Award, sponsored by Cloud based business VoIP provider Phonebooth, a division of Bandwidth, is a small American furniture manufacturer specializing in large and small sofas, sleepers and small sectionals for small scale rooms, narrow doors and stairways, RVs and boats.
Simplicity Sofas opened its High Point, NC factory in Nov. 2007, just as the recession began. Over a five year period ending in 2011 40% of American furniture manufacturing jobs disappeared as the furniture industry became one of the hardest hit segments of the American economy. Between the economic downturn and cutthroat competition from overseas competitors, the outlook for remaining American furniture manufacturers was bleak.
To survive in this climate required a radical re-invention of every aspect of the furniture business including: product design, production systems, distribution channels, marketing and even customer service.
Simplicity Sofas designs, builds, markets, sells and services a complete line of patented large and small sofas and furniture for small spaces and impossibly tight places.
All of the company's sofas, sleepers and sectionals are designed to fit through any entrance wider than 15 inches. Some pieces need only 8" of clearance. Assembly is so simple that a 170 lb. sofa can be assembled in less than five minutes by an eight year old. 8 year old assembles a sofa.
Simplicity Sofas produces its furniture using an "extreme" modular customization manufacturing process that utilizes only 30 different component parts to produce more than 1 million different custom product variations. All furniture is hand made using solid oak frames.
Simplicity Sofas sells its products through its own e-commerce website. This meant that the company needed to sell to online customers expensive furniture, unlike anything they had ever heard of before, that they could not see or touch, that they had to assemble themselves from a small company they had never heard of.
To convince prospective customers to take a chance the company issued the furniture industry's first Total Satisfaction Warranty which states:
"If you do not like our furniture for any reason whatsoever you may return it for a full refund, including all shipping charges, for a period of one year after purchase."
The Total Satisfaction Warranty convinced the first customers to buy. They universally loved the furniture. The next goal was to establish an extensive Word of Mouth library of comments and reviews from happy customers. This was difficult since furniture purchasers usually write comments only when there is a problem.
The solution to this quandry was another industry first -- After every delivery each customer was contacted within 24 hours and asked:
How do you like your furniture?
What did you think of the customer service?
Are there any problems that need to be addressed immediately?
The result of these simple question was comments and reviews from more than half the customers, all universally positive. All problems were taken care of quickly and thoroughly and elicited some of the most positive comments of all.
After 5 years and more than 3000 customers Simplicity Sofas has never received a negative review.
The company even found a solution for its prospective customers who refused to buy without first seeing and touching the furniture. Simplicity Sofas still does not sell retailers and does not have company showrooms (except for the factory showroom in High Point, NC). Instead it relies on a nationwide network of its previous customers who volunteer their homes to be used as transitory "showrooms" for prospective new customers.
Simplicity Sofas opened its factory in November, 2007. Co-inventors Glenn Laughlin and Jeff Frank each have more than 30 years experience in the furniture industry and share 5 patents (and 1 pending patent) in the fields of RTA (Ready-To- Assemble) and multi-functional upholstered furniture. There have been dozens of articles written about the company's "extreme" customer service philosophy which has enabled the company to grow despite adverse economic conditions.