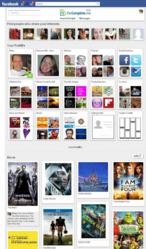 "In the era of hyperpersonalization, theComplete.me social dating network offers singles true "Interest Matching," and a more personal way to meet new people and start conversations.
-Brian Bowman, Co-founder/CEO theComplete.me
(PRWEB) March 13, 2012
San Francisco, CA – Mar 13, 2012—theComplete.me™ (http://www.theComplete.me), the Internet's first social dating network, announced today the launch of a free Beta service. Singles can now tap eight social sites to create a visually-representative dating profile from the updates, photos, interests and friends they are already sharing. The site's users also have Pinterest-like control over the personalization of their profile with content from around the Web. Rather than relying on matching algorithms to analyze a check list of a user's traits, singles on theComplete.me connect, and begin conversations, based on shared interests and mutual friends.
theComplete.me is the first dating site to leverage Facebook's social and interest graph, and also allow users to pull in interests from around the Web, to create a visually richer, more open and reciprocal online dating experience. The site's users customize a FraME™—a collage for each of their interests, affiliations, aspirations and people connections—to demonstrate who they really are. While theComplete.me has an environment of openness and sharing, users are offered complete control over what, and with whom, they share. Each member earns a .Me Score™, based on the degree to which they have shared, and the likeliness of authenticity. This unique combination of interest matching and identity auditing helps singles make more meaningful and informed connections.
As the Internet moves towards hyper-personalization, theComplete.me is poised to let singles tell the complete story of who they are, with all the aspirational subtleties and interest nuances that can't be captured on a check list. While anyone can check a box on a dating site that says they have a great sense of humor, it doesn't mean that other singles will find them funny. With interest matching, singles can connect with someone who enjoys "nice" funny, like Ellen DeGeneres," ice "funny, like Ann Coulter, "class-clown" funny, like Jim Belushi, or "edgy" funny, like Chris Rock.
How It Works:

In less than five minutes, users create a visual rich dating profile from the social media they already use, including: Facebook, LinkedIn, Twitter, Google+, Photobucket, Flickr, Foursquare, Goodreads and Instagram.
FraMEs give singles Pinterest-like control over profile personalization.
Profiles automatically evolve as users add interests and comments, or update social media feeds.
Like a Friend™ feature allows singles to express interest and invite members' friends to join.
Members can see the other dating sites being used by people in the Me Network™, including Match.com, Zoosk, eHarmony and Badoo, and can communicate with them for free on theComplete.me.
Communication is 100% free.
Watch the video to see more about how theComplete.me works: http://t.co/ydetuHLY
About theComplete.me
theComplete.me is the Internet's first social dating network where singles discover people who share their true interests and mutual friends. Founded by Brian Bowman (CEO), former VP Product Match.com & VP Community Yahoo!, and Shashikant Joshi (CTO), former Founder/CTO Perfode, theComplete.me startup team and Board of Advisors include Fran Maier, Co-founder of Match.com, Trish McDermott, former VP Public Relations Match.com, and other former Match.com and Internet executives.