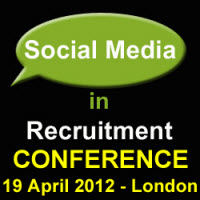 Recruiters can learn from what others have already done and achieved which can speed up their own implementation plans
(PRWEB) January 31, 2012
As the popularity of social media continues to grow there are still Recruiters who haven't yet implemented social media as part of their recruitment strategy. However, that is not seen as a problem and can in fact turn out to be an advantage, according to Mike Taylor from Web Based Recruitment, organisers of the 2012 Social Media in Recruitment Conference being held in London on the 19th April 2012.
"When you are a Recruiter looking to get started it seems that every Recruiter is on all the social media sites and therefore you feel you need to do the same. And because you haven't mastered all the different social media sites yourself there is a natural resistance to get started as you feel you don't know enough about all the sites" said Taylor. "The reality is that you don't need to master all of the social media sites to get started, you simply have to work out which sites will best match your business and target audience and then manage them as efficiently as possible."
Since the very first Social Media in Recruitment Conference in July 2009 Taylor has organised a conference every year which focuses on helping Recruiters get the most from using social media when recruiting. "The 2012 event will be our fourth conference and we have delegates who come back year after year to learn more. As social media changes so quickly delegates want to make sure they keep up to date with the latest trends and best practices. They also enjoy the fact that we invite delegates back from previous conferences to be Speakers and share their social media success stories."
"As well as being ideal for experienced users of social media the conference is also ideal for Recruiters looking to get started with social media. This is because they have the advantage of seeing what Recruiters have already done and achieved which can speed up their own implementation plans" continued Taylor.
2012 Subject Areas
The subject areas for the 2012 conference were announced in the last couple of weeks and will include:

Social media in recruitment – past, present and future
How companies have embraced Facebook, LinkedIn and Twitter to recruit top talent
The best ways to build a talent pool for future hires
How job seekers use social media when job hunting and what they expect to see from employers
How to develop and manage a global social media strategy
How to use social media to engage and develop talent communities
Tools, tips & techniques to help you manage your daily social media activities
How social media can make your company stand out from the crowd and become irresistible!
Previous delegates social media success stories
How to integrate mobile as part of a recruitment strategy
Social Media Question Time
Full details of the programme can be found at: [http://www.socialmediainrecruitment.com/programme-2012/
Exhibition Area & Sponsorship
In addition to the conference there is also an exhibition area where delegates will be able to talk to companies and see demonstrations of various social media related products and services. Any company interested in getting involved as a sponsor or exhibitor at the 2012 Social Media in Recruitment Conference should contact Mike Taylor through the conference website.
###