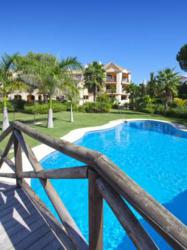 "Summer is over for most of us, this along with talk of recessions in Europe means it may be time for another holiday or better still a holiday home in the sun as Spanish property is looking to be very good value for money at the moment."
(PRWEB UK) 20 September 2012
Loxley McKenzie Managing Director of Colordarcy.com commented, "Summer is over for most of us, this along with talk of recessions in Europe means it may be time for another holiday or better still a holiday home in the sun as Spanish property is looking to be very good value for money at the moment."
According to Colordarcy.com property in Marbella and other popular resorts in Spain used to be expensive, for many it was little more than a dream to be able to afford properties close to the beach in these resorts.
Property prices rose considerably during the boom years in Spain putting the best quality property out of reach of many holiday home investors.
Many of those who did invest towards the end of the boom will find themselves waiting several years for make a return on their investment, however for those people who decide to invest now that sea view and morning run on the beach may now be within reach for an increasing number of investors according to Colordarcy.com.
This is due to 3 reasons:
-Spanish banks are allowing 100% finance on certain property developments.
-The value of the Euro has declined more than any other major currency apart from the Yen.
-Spanish property prices have fallen to levels 60% below their peak in some areas.
So according to Colordarcy, not only are the banks encouraging property investors to invest in Spanish property and help them reduce their losses, the economy in Europe is also lending a helping hand by deflating the value of the Euro.
Investors can now invest in property in established locations like Marbella close to the beach at 60% below their original prices which begs the question – why wouldn't investors be in the market for holiday home on the Spanish coast?
Notes to the editor:
Colordarcy is a leading property investment company that specialises in finding positive cash flow investment properties worldwide. Colordarcy investment property portfolio includes some of the best properties for sale in Brazil, Florida, Turkey and the United Kingdom.
For more information, supporting pictures or logo artwork, please contact:
Brett Tudor
PR Manager
Tel: +44 (0) 207 100 2393
Email: press(at)colordarcy(dot)com
Web: http://www.colordarcy.com/