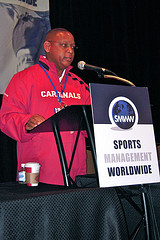 "This is the 'must attend' event of the year for those involved in sports management programs who truly care about experiential education, establishing networking contacts with senior level executives, and exposing students to visionary thinkers.
Indianpolis, Indiana (PRWEB) January 23, 2012
Sports Management Worldwide to host Sports Business Career Conference during the NFL Combine in Indianapolis, Indiana on February 24th and 25th, 2012. Participants will gain insight into careers in sports through presentations by successful sports executives, including GM's, front office executives, Scouts, Sports Agents, player personnel, and well known media currently working in football. This event includes networking, information on breaking into the sports industry and advice on advancing your sports business career. College credit available for attending.
The conference, taking place Friday from 1pm. to 6 p.m, and Saturday from 9am-5pm at the Indianapolis Hyatt Regency, will offer panel discussions and question-answer sessions regarding career specifics, career planning strategies, challenges in the economy, new media communications, with the "who's who of the NFL."
Confirmed speakers include:
Raymond Berry, Pro Football Hall of Fame, Baltimore Colts - 1955-67 with Johnny Unitas. Former Coach of the Cowboys, Patriots, Lions, Broncos
Dawn Aponte - Miami Dolphins Sr. VP of Football Operations
Adam Schefter - ESPN
John Wooten - NFL Legend, now fondly called the "Godfather" of the NFL
Dr. Lynn Lashbrook, President and Founder, Sports Management Worldwide
Russ Lande - NFL Draft Expert for GM Jr Scouting & The Sporting News 
Mike Stanfield, New Orleans Saints VP of Ticket & Suite Sales
Mike Stoeber, Jacksonville Jaguars Video Assistant (XOS)
Derron Harris, Philadelphia Eagles Manager of Football Administration
George Karras, Oakland Raiders Scout, longtime friend and associate of Al Davis
Dave Razzano, NFL scout for more than 22 yrs,49ers, Rams, Cardinals. 
Matt Littlefield former NFL pro & college scout; current scout for GM Jr Scouting Services
Josh Liskiewitz, College Scout with GM Jr Scouting Contributor for RoarReport
Kristen Kuliga, NFL Agent (female agent representing the most NFL players)
Jack Mills, NFL Agent
Jim Solano, NFL Agent
Steve Nash, Integrity Sports Broadcasting Network
Rick Horrow, Host of Sportfolio on Bloomberg
and many more to be announced
The cost of the conference is $250 on or before February 10th, students $160. Capacity is limited and spots are selling quickly, immediate action is required to ensure a place in the conference. Registration can be completed at Sports Management Worldwide or by calling 1-877-SMWW-NOW.
For more information about the Football Career Conference during the NFL Combine, Sports Management Worldwide, or to schedule an interview with Dr. Lynn Lashbrook, please contact 1-503-445-7105 or info(at)smww(dot)com.
Check out last year: YouTube Video (30 seconds)
About Sports Management Worldwide
Sports Management Worldwide is the global leader in online sports business education with over 5000 alumni from over 125 countries now working in sports leagues all over the world.
# # #