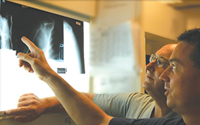 At the Hand Center, innovative diagnosis and treatment – both surgical and nonsurgical – can be found together in a single location.
Santa Rosa, CA (PRWEB) December 17, 2012
With 27 bones, cartilage, joints, tendons, and nerves in the hand, treatment of hand problems poses a significant challenge for orthopedic surgeons. When a patient experiences hand pain and/or loss of mobility, there can be a variety of causes, each of which necessitates specialized care. Experienced orthopedic hand surgeons Kai-Uwe Mazur, MD, and Raymond Severt, MD, lead the Hand Center at SRO. Patients of the Hand Center receive collaborative care from Dr. Severt, Dr. Mazur, as well as SRO's certified hand therapists. By exclusively targeting hand and upper extremity care, the Hand Center's medical team determines personalized treatment plans to meet each patient's specific needs, and to help patients achieve the highest level of function and recovery.
According to the American Academy of Orthopaedic Surgeons (AAOS), there are approximately 2,500 hand surgeons in the United States, representing fewer than 11% of the country's orthopedists. At the same time, numerous factors – active lifestyles, an aging population, and widespread use of personal and office computers, mobile phones, video games, and keyboard-based electronic devices– have led to a rapid increase in hand injuries and chronic conditions, requiring more specialized care. Since physicians often have a difficult time identifying which hand injuries and conditions require specialized treatment, Drs. Mazur and Severt started the Hand Center at SRO, where Sonoma County doctors can refer patients with complete confidence that they will get the expert care they need.
Dr. Mazur explains, "Referral to a hand surgeon within a week of injury is appropriate for any laceration with loss of sensation, function, or movement. Displaced fractures should also be seen by a hand surgeon. Other symptoms warranting referral to a hand specialist include pain or numbness that persists or progresses; any noticeable deformity; lack of mobility or decrease in sensation; or compromised vascularity."
Drs. Mazur and Severt actively participate in research at the national level. In its first few months of operation, the Hand Center has provided care for a broad spectrum of hand and upper extremity conditions, including fractures, lacerations, repetitive stress injuries, nerve-compressive neuropathies such as carpal tunnel syndrome and cubital tunnel syndrome, shoulder impingement, trigger fingers and other tendon disorders, DeQuervain's syndrome, and lateral epicondylitis.
Arthritis affecting the hand is common, not only in the senior population, but also in patients under age 50. Dr. Severt comments, "We see a lot of Dupuytren's contracture in Sonoma County. This is a thickening of fibrous tissues beneath the skin of the hand, causing the fingers to curl inward toward the palm. It occurs most frequently in older patients of northern European descent, and more commonly in men than women. Given the demographics of our local retirees, we'd expect to see this syndrome even more often as our population ages."
Collaborative care is a core value at the Hand Center. Both Dr. Mazur and Dr. Severt acknowledge that technology is never a substitute for a collaborative relationship between patients, surgeons, other physicians, therapists, and professional staff. "Equipment does not make the surgeon," Dr. Severt says. "Appropriate evaluation and treatment is primarily based on the clinical acumen or skill of the surgeon. The equipment is used to supplement that skill."
The Hand Center's coordinated care process facilitates collaboration. "Synergy is the key to rehabilitation," says Dr. Mazur. "It's important that the therapist be able to access the paperless charts and review the operative notes. The therapist may ask the surgeon – who is in the same office building – what rehab protocol to use, based on the injury and surgical findings. The surgeon can walk over to the therapy clinic, examine the injured extremity, and discuss implementation of the best treatment with the therapist – right at the patient's bedside. This helps avoid 'missed opportunities' in rehab, where the outcome would improve tremendously with sound dialogue between the surgeon and therapist and patient."
In another example cited by Dr. Mazur, a surgeon may see in the office an injury that requires immediate splinting and therapy. The surgeon could immediately accompany the patient to the therapy unit and discuss the clinical situation with the hand therapist. The patient could begin receiving the appropriate care the same day.
At the Hand Center, innovative diagnosis and treatment can be found together in a single location. Patients benefit from the Hand Center's complete integration into the existing care continuum and electronic medical records system at SRO. Drs. Mazur and Severt can also refer Hand Center patients to SRO's other orthopedic specialists for comprehensive treatment of the entire musculoskeletal system. With centralized facilities, and the opportunity for the surgical team to confer and collaborate on individual cases, Drs. Severt and Mazur continue to provide quicker, more responsive care that leads to exceptional patient outcomes.