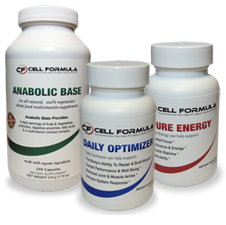 As the World is gripped by the excitement of the 2012 Summer Olympics, natural supplements seller, True Healthy Products offers free information on natural supplementation.
(PRWEB) August 15, 2012
The thrilling 2012 Summer Olympics has captivated the World with surprises like the unexpected outstanding performance of France's breakout star swimmer, Agnel Yannick, and the devastating triumph of the Honduras Men's Soccer Team over Spain.
For those with an interest in health and fitness, each Olympian is inspirational. They are the World's best Athletes. Much can be learned by observing the habits of these athletic elite; for example, diet and nutrition. Free informational reports on how organic vitamins can provide you with a synthetic free solution to obtaining nutritional equivalent to eating all the fruits and vegetables for the daily requirement with the Cell Formula Anabolic Base can be found here, http://www.truehealthyproducts.com/cell-formula-reports .
For athletes or anyone trying to improve the quality of health through proper nutrition, True Healthy Products is offering free information on organic whole food supplementation to get in all of the daily fruits and vegetable requirements that sometimes are overlooked. With new athletic heroes born in the spotlight of media each day as the 2012 Summer Olympics roll out, perhaps others will become inspired to improve themselves through diet and fitness to become the best that they can be.
Those interested in body wellness and improvement can now access the company's free weight loss guides at http://www.truehealthyproducts.com/weight-loss-reports. The guides feature weight loss tips, simple and efficient ways to eat healthy and promote long term health.
True Healthy Products is a nutrition company dedicated to offering the best customer service and latest products that range from all natural sports nutrition supplements, healthy dark chocolate, weight loss programs, revolutionary skin care and whole food vitamin supplements.
For more information visit: http://www.truehealthyproducts.com
Contact:
True Healthy Products, LLC
2460 North Courtenay Parkway, Suite 210
Merritt Island, FL 32953
888.400.2920