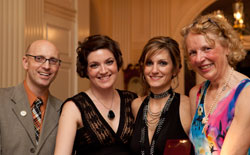 Baltimore, MD (PRWEB) April 11, 2012
Dulany Noble, owner of Gala Cloths, event specialty table linen rentals, was honored with the first National Association of Catering Executives (NACE), Baltimore Chapter, "Noble Award," at Uncorked! 2012, the organization's signature annual fundraiser, on March 19.
Dulany has been a member of NACE for more than twenty years, chaired numerous committees, held the position of Director of Community Service for a number of years, and received NACE's national-level "George Zell Award." As chairman of fundraising for the Baltimore Chapter, Dulany developed the concept for Uncorked! – a four course wine dinner and tablescape competition. Event proceeds benefit Meals on Wheels, the Foundation of NACE, and the Baltimore Chapter of the NACE Education Fund.
The benchmark "Noble Award" is named for Dulany in further recognition of the mark she has made on the industry during her tenure, including her consistent sponsorship for Uncorked! and other Baltimore NACE events, her continual willingness to offer services and goods, her expertise and advice offered to benefit the chapter, her track record of building strong vendor relationships within the NACE network, and the impact of her commitment, compassion, and humanitarian spirit.
Onstage at Uncorked! for the Noble Award presentation: Jean Mayer, owner of Boutique Events; Rachel Shaw, owner of Plan It Perfect Events; and Carl Brashears, Jr., owner of Classic Disc Jockeys, who presented the award.
About Gala Cloths
Founded in 1991 by Noble, Gala Cloths supplies rentals of table linens and chair covers for every occasion and any size party, wedding, and business entertaining event. Gala Cloths' designer and rental consultants serve the Baltimore/Washington D.C. metropolitan areas; Maryland, including the Eastern Shore; Pennsylvania; New Jersey; and Delaware. From a base of operations and Showroom in Reisterstown, Maryland, the company ships linens throughout the U.S. and abroad. Consultation at Gala's Philadelphia Showroom is available by appointment. Gala Cloths has been recognized with numerous awards throughout the years, including Wedding Wire's "Bride's Choice Award."
About the National Association of Catering Executives (NACE)
NACE's mission is to provide catering and event professionals superior education, networking, and resources. It is the oldest and largest professional association that addresses all aspects of the catering industry.