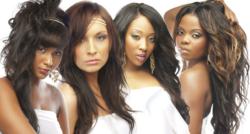 ...most of our new customers are referrals from current customers. They are constantly educating and informing people about the site and store, and we believe that loyalty of this magnitude should be rewarded
Houston, Texas (PRWEB) January 20, 2012
Tiffani Chanel Luxury Hair boutique has just announced an incredible promotion that enables current customers and Stylists to earn an unlimited amount of free hair or other products of their choice just for referring their friends and clients to the boutique for hair extension and wig purchases.
With this program, after six new customers purchase at least two bundles of human hair extensions or one human hair lace wig, the referring member will receive the average of those six purchases in salon cash, which may be used on any products in the store.
Owner Tiffani Speller stated "Since the inception of our website and subsequent opening of our first store, we have found that most of our new customers are referrals from current customers. They are constantly educating and informing people about the site and store, and we believe that loyalty of this magnitude should be rewarded."
This program is valid for both online and in-store purchases. No restrictions are placed on the number of reward payouts that a member can receive, and the program is slated to run indefinitely.
About the Company
Tiffani Chanel Luxury Hair is a privately held headquartered in Spring, Texas. The company is committed to providing women of all types a resource for top quality hair extensions and wigs that most budgets can afford.
Owner, Tiffani Speller entered the retail hair industry in 2009 exclusively as a lace wig boutique. Due to high demand, the product offerings were expanded and Tiffani Chanel Luxury Hair was born.
###