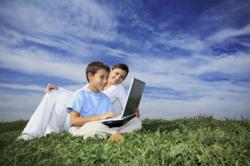 Los Angeles, CA (PRWEB) March 23, 2012
April is financial literacy month and this makes it a great time to begin to teach children about money. Today's youth face a variety of financial challenges as they mature. High unemployment rate, debt, savings-shortages and increasing college costs will plague many youth in the near future. The aforementioned issues are only compounded when you look at the near certain reduction or complete elimination of retirement benefits offered through social security and private companies.
The NFEC curriculum design team which is made up of educators and financial professionals are instrumental in developing the NFEC's financial literacy coursework. The two tips provided here were derived from the kids financial education programs that serve children from age two through college. To see all the tips read the NFECs complete article, "Teach Kids about Money".
The first tip helps kids develop their ability to think for themselves. This doesn't only impact their wallet but also how they cope with peer pressure. Getting kids to understand marketing principles at a young age can help them evaluate purchasing decisions logically instead of emotionally. Many marketing messages delivered by advertisers are designed to get people to make purchases; helping your child evaluate the truth behind persuasive messages can help them keep more money in their savings account. This lesson can be a fun game and easy to share. When you go shopping, flip through magazines, drive past billboards or watch TV with your children, point out the advertisements and critique them together. Ask your children, what are they trying to sell, what type of people are they targeting, what actions are they trying to get you to take and do you believe what they are saying. This simple financial literacy for kids game can help you raise free thinkers instead of broke lemmings.
The next tip will help them understand how money can impact their life, positively and negatively, and can motive them to want to learn how they can pick up financial literacy lessons. For youth, money itself is not an intrinsic motivator. Few kids care about how much money is in the bank. It is what that money allows children (and adults) to do that is a positive motivating force. A great way to encourage them to want to gain personal finance knowledge is to understand your children's big dreams and passions. Ask them broad questions about their future then work on getting specific details about those areas where they are most excited. Then tie in how knowing about money can help them attain their dreams. Give them specific and concrete examples that directly relate to the dreams they shared with you. Be sure to have resources available to leverage their new found motivation.
The National Financial Educators Council's mission is to create a world where people of all ages are financially capable to make sound, effective financial decisions that improve their lives and the lives of people they influence. The NFEC provides tips to teaching kids about money to parents and educators to open up the lines of communication about the topic of personal finance. The NFEC also produces turnkey financial literacy products and services that minimize the time and investment needed to implement an effective financial education initiative over financial literacy month.