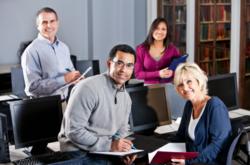 Los Angeles, CA (PRWEB) January 11, 2012
The National Financial Educators Councils launches the 2012 updates to the Certified Financial Education Instructor program to help educators and nonprofit organizations teach personal finance effectively. The 2012 updates include a new adult financial education program and updated youth financial literacy educator training material.
The Certified Financial Education Instructor(CFEI) program provides comprehensive training to assist educators, volunteers, financial professionals and concerned citizens in teaching financial literacy to people of all ages. The CFEI program also includes financial literacy curriculum, virtual learning center, student guides, presentations and other tools that will guide the educator as they deliver the training.
The Certified Financial Education Instructor coursework was developed through collaborative efforts of leading financial educators, financial professionals and traditional teachers to bridge the gap between practical and theory based education. Instructors are also taught how to incorporate personal finance topics to meet core subject requirements.
The training goes beyond teaching personal finance and emphasizes the NFECs' holistic teaching approach, which helps the instructors provide training to those that support the development of the participants. For youth educators, training is provided to help enlist the support of parents. The adult educators receive information on how to get the spouses and children of the participants on board to improve the personal finance habits of the family.
The NFECs' Certified Financial Education Instructor coursework is delivered through live events, online virtual learning center and through live webinars to accommodate a variety of schedules and needs. The CFEI training program is touring the country with scheduled 2012 stops in Pennsylvania, Arizona, California and other cities across the country.
"Teaching personal finance is different than providing instruction on any other subject. To improve the effectiveness of money management training it is essential to have trained educators that feel comfortable teaching financial literacy topics to deliver the information," says Vince Shorb, Chief Marketing Officer for the National Financial Educators Council.
The National Financial Educators Council is a social enterprise organization that provides schools, concerned citizens, and organizations the tools to teach personal finance. The NFEC awards the Certified Financial Education Instructor to the program graduates and provides the financial literacy resources, so they can share the information effectively with people in their community.
###