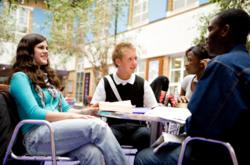 (PRWEB) January 19, 2012
The National Financial Educators Council announces the release of the Student Experience Card, a fake credit card application that provides a shocking financial education. This learning tool is available to select universities that want an effective tool to teach personal finance to college students.
A 'shocking' situation often gets people to immediately reconsider their actions. Whether it's almost getting into an accident because a person was looking at their phone or accidentally carbon copying a group of people a personal message intended for one person - during that time of 'regret' is an ideal time to facilitate behavior change.
The NFECs' Experience Card is a fake credit card application that lures college students to apply for the credit card with teaser rates and favorable terms. However, upon closer exam of the terms and conditions, the students realize that just reading the advertising and not the complete terms and conditions can put them in unfavorable financial situations.
The Student Experience Card entices students to apply with 'slick' advertising that mentions a $100 bonus and instant approval. Students who apply must check off that they have read and agreed to the terms and conditions which clearly state an APR of 99.9% and a $297 annual fee which is due immediate upon acceptance. These terms are also highlighted on the "page to claim their $100 bonus". Upon reading the message students are prompted to follow a few steps to "get a refund". This is where they learn this was a fake credit card application designed to teach personal finance lessons.
"I freaked out," states Jacob a student from the Orange County High School of the Arts. He continues, "The website made it sound like a great student credit card for me but when I found out I owed $197 dollars I didn't know what to do. As I tried to get my refund, I found out it was fake and was very relieved. From now on I will always read everything that I am applying for."
The NFECs' Student Experience Card was designed to take students on an 'emotional learning rollercoaster' to facilitate long-term changes in behavior. Leveraging negative emotions like fear and regret can make a lasting impact on those that go through the application process. This unique method of teaching personal finance has been found by the NFEC to be effective in improving retention rates and improving peer-to-peer discussions of financial matters.
The National Financial Educators Council has been credited with 'revolutionizing how financial literacy is taught'. Their youth programs include the Real Money Experience, Money XLive and the Student Experience Card. These unique programs connect with youth in a way they relate to and inspire them to improve their personal financial capability.
###