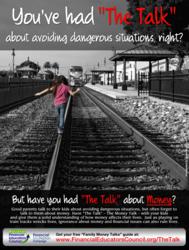 Los Angeles, CA (PRWEB) April 30, 2012
The National Financial Educators Councils' The Talk Financial Literacy PSA raises awareness among parents to have the talk with their kids about money. This Public Service Announcement is part of the NFECs' Financial EduNation Campaign and also provides complimentary personal finance material to parents, educators and concerned citizens who are interested in teaching children about money.
The Talk financial education awareness campaign illustrates issues that directly impact their children's well-being, since most parents neglect to teach children about money. Emotionally charged visuals encourage parents to take action by discussing personal finance topics with their children. To help parents open up the lines of communication with their children on the subject of money, the Financial EduNation campaign also provides complimentary material - the Family Money Talks Guide.
The striking images inform parents that raising financially illiterate children can result in long-lasting negative consequences just like the common dangers featured in the PSAs. The PSA advertisements feature dangerous situations that children can get into – drug use, drinking and driving, playing in unsafe areas and crossing the street without looking both ways.
"The pitfalls today's youth face today are making front page news. The recent report that over 50% of college graduates are under- or unemployed should be an alarm for parents. Most that graduate college spent 16 years in school picking up skills that help them earn more money; yet, no time is spent on showing them how to save and grow their money. This financial education awareness campaign encourages parents to have 'the talk' with their kids about money," states Vince Shorb, CMO of the NFEC.
The youth photos and creative design for 'The Talk' financial education awareness campaign were provided by Aaron Meyers Photography. As reported by the NFEC, Meyers sponsored the initiative because he recognized how financial illiteracy impacted the lives of his friends and himself personally when he was younger. Aaron Meyers states, "I know for many people not knowing how to handle their money can have devastating consequences. I'm glad to be able to contribute to the financial education movement."
The NFECs' Financial EduNation Campaign raises awareness about the financial illiteracy epidemic and provides solutions for parents, educators, nonprofit organizations, communities and individuals who are seeking to improve the financial capability of those they serve. The National Financial Educators Council is a social enterprise organization that is a leader in developing high-profile campaigns. "The Talk" financial literacy PSA expands NFEC's reach into the homes of families that are looking to secure their children's future.