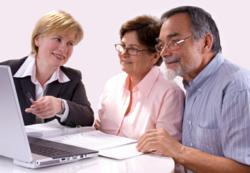 Los Angeles, CA (PRWEB) January 18, 2012
The Certified Financial Planner Board of Standards, a regulatory organization that creates uniform standards of competency, practice and ethics of financial planners, approves the National Financial Educators Councils' Teaching Personal Finance coursework. Financial advisors that complete the program earn four hours of Continuing Education Credits issued by the CFP Board and graduates also are recognized by the NFEC as Certified Financial Education Instructors.
The NFECs' Teaching Personal Finance Coursework helps financial advisors connect with clients, understand their needs and effectively communicate personal finance topics that impact their client's financial goals. This includes advanced training on understand the psychological needs of clients using Maslow's Hierarchy of Needs as well as tactical information on how to teach basic personal finance topics so participants feel motivated to improve their financial situation.
The NFEC trains financial advisors on how to teach financial literacy effectively and also enlists qualified financial professional to their Curriculum Advisory Board. "Financial professionals play a vital role at the NFEC. They contribute to the development of our curriculum, training and material, so we are able to bridge the gap between theory-based education and what people can use in the real world," says Vince Shorb the NFEC's CMO.
In addition to the four hours of Continuing Education Credits offered by the CFP Board, the graduates of the Teaching Personal Finance coursework also receive the NFECs' Certified Financial Education Instructor (CFEI) designation. The CFEI instructors are eligible to hosts NFEC speaking engagements, and according to their website 'graduates have the personal finance training that makes them among the most qualified financial educators'.
The NFEC promotes the development of 'sustainable' financial literacy initiatives. Their emphasis on designing personal finance programs that provide benefits to the organization or individual teaching the program assists in the longevity of the outreach. Financial advisors and other financial professionals use the NFEC program to build new connections and goodwill within their respective communities.
The National Financial Educators Council is a social enterprise that provides training and material to those that seek to improve the financial capability of people globally. The NFECs' Teaching Personal Finance coursework was designed to help financial planners and concerned citizens effectively share money management topics to people within their community.
###