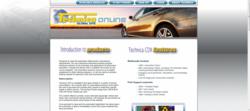 "The Technica offerings are the result of great synergy between Midas Group and CDX Automotive," said Jones & Bartlett Learning President, James Homer.
Burlington, MA (PRWEB) May 10, 2012
Jones & Bartlett Learning, a division of Ascend Learning, has partnered with Midas Group's Technica Online to develop world-class interactive automotive training solutions to practicing professionals, students, and training institutions worldwide. CDX Automotive, the leading online automotive training curriculum developed by Jones & Bartlett Learning, will form the core of more than 32 training courses offered through Technica Online.
CDX Automotive's courses are among the world's most popular automotive training tools used by thousands of institutions to introduce students to the principles and applications of automotive technology in an innovative and practical manner. Midas Group will now market and distribute these courses at http://www.technica-online.com, Technica's official website.
Technica courses will feature more than 1,000 instructional and refresher videos for a wide-range of abilities, from garage technicians to do-it-yourself enthusiasts. In addition, the online courses include complete task sheets, workshop procedure guides, and diagnostic activities that include a virtual DVOM meter. More than 60 interactive diagnostic assessment activities, hundreds of knowledge checks, and over 80 animations help to solidify diagnostic competencies. Each course provides a short group of 5-10 test questions that test recall and understanding of the content and a final summative exam, which when passed, confirms the module completion with a certificate.
"The Technica offerings are the result of great synergy between Midas Group and CDX Automotive," said Jones & Bartlett Learning President, James Homer. "Midas is focused on quality and innovation. They leverage technology where possible and believe education plays a major role for any organization that is committed to quality. CDX Automotive shares that belief and we continuously look to improve the quality and effectiveness of our products to deliver value to both learners and educators."
"We are excited by this partnership with Jones & Bartlett Learning, a company that for many years has recognized that education is key to the future of any organization and has invested in the development of quality education programs," said Midas Group Marketing & Franchise Director, Stefan le Roux." In addition, by combining the vision and efforts of two companies like Midas Group and Jones & Bartlett Learning, the access to quality automotive education around the world is set to improve dramatically, helping to ensure the sustainability of our industry."
Using an e-commerce model that is first to market, the courseware will be delivered as individual training modules priced between $9 and $35 per year. Subscriptions to the complete light vehicle and heavy vehicle courses, which include more than 40 hours of instructive video alone, are also available and priced between $195 and $295 per year. Discover more at http://www.technica-online.com.
About Jones & Bartlett Learning
Jones & Bartlett Learning combines authoritative content with innovative technology to help educators teach more effectively and students learn more efficiently.CDX Automotive is the world's leading provider of interactive and experiential automotive curriculum for light vehicle, medium/heavy truck, and bus technician training. Since 1994, CDX Automotive has set the standard for media-rich, online, and flexible automotive training programs that enhance instructional effectiveness, student engagement, and learning outcomes.
More than 2,000 high schools, vocational schools, community colleges, commercial fleets, established auto shops, and corporations in over 50 countries have benefited from CDX Automotive's unique Know-See-Do-Prove instructional model.
CDX Automotive's comprehensive yet flexible online training programs help instructors and administrators meet their instructional goals by aligning the curriculum to specific industry or country-specific training standards, while providing easy to use assessment and reporting tools that help instructors evaluate their students' performances. Learn how at http://www.cdxauto.com.
About Midas Group
The Midas Group, which primarily operates in the replacement automotive parts industry, was founded in 1968. The Group currently employs over 1200 members of staff and generated sales in excess of R3 billion in 2011. The Group markets and distributes quality automotive, DIY, DIFM, and leisure products and services through selected channels.
The Midas Group distributes all leading OE brands as genuine replacement parts and also offers the customer the option of guaranteed, quality private label value brands whilst not participating in the cheap, white-box uncertain market. To stay ahead of customer needs, the Midas Group consistently invests in its logistics capabilities and provides logistic solutions encompassing physical distribution, electronic procurement, selling, financial, franchise and inventory management.
On December 1, 2009, IMPERIAL Holdings Limited was introduced as a shareholder in The Midas Group. IMPERIAL is a diversified industrial services and retail group with activities spanning logistics; car rental; tourism; financial services; vehicle distribution and retail. IMPERIAL operates in South Africa, Africa, Europe and Australia. IMPERIAL is listed on the Johannesburg stock exchange, and its management structure actively encourages entrepreneurship, innovation, and industry-specific best practice. Learn more about Midas Group at http://www.midasgroup.co.za.