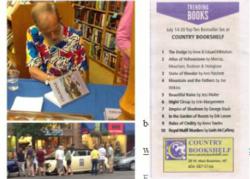 I felt completely satisfied with the role I have played as steward of the Dodge. Now, she can go anywhere, do anything.
Bellingham, Wa (PRWEB) July 31, 2012
Intrepid Bellingham couple Anne and Mike Mikkelsen returned from their 2,000 mile book tour earlier this month to Bozeman and Lewistown to best-seller news for their new memoir, "The Dodge: Guts, Glory & Living At Full Throttle." The Country Bookshelf in Bozeman, Montana's largest independent bookstore, reports that The Dodge is number one in sales two weeks after their signing event and personal appearance by the Dodge herself.
The road trip in the 1941 Dodge D-19 Luxury Liner convertible was a homecoming some 60 years in the making, a family pit crew following caravan style in the couple's Prius. Parkinson's disease was along for the ride, but decidedly took a back seat to the action and adventure, as it has to their living life to the fullest.
Mike, 79, is an award-winning sculptor and potter and auto restoration enthusiast. Anne, 67, is a French trained chef, Master Gardener, writer, and care partner to her husband in the decades since his Parkinson's diagnosis. They collaborated on this new memoir which is anchored to his storied restoration of this classic Dodge that has a Jaguar engine, yet is faithful to her original paint color.
The couple succeeded in multiple missions on their trip to Big Sky country, delivering the message – in parking lots, at rest stops, street corners, driveways – to advocate for Persons with Parkinson's disease and their care partners, and to fulfill Mike's dream of returning the Dodge in her restored glory to the spot in a Montana coulee where she spent 20 years in decline after Mike went off to war.
Despite a few setbacks, they arrived on schedule for readings and signings at public libraries and bookstores timed with the Lewistown Art Center's historic downtown Art Stomp and Bozeman's monthly Art Walk. Oddly enough, it was the Dodge's fuel regulator that slowed them down. Halfway through the trip they decided to by-pass the regulator and moved forward at full-throttle.
Anne also is the author of "Take Charge of Parkinson's Disease: Dynamic Lifestyle Changes to Put You in the Driver's Seat," which shares how the couple has learned to live vibrantly with PD since Mike's diagnosis. Both books also are available at indie bookstore Village Books in Fairhaven.
Without a doubt, friends, family, and readers are anticipating the complete story from Anne, the writer and chef, of the trip's magical moments, lessons, mishaps and repairs -- and culinary encounters.
"The Dodge: Guts, Glory, and Living at Full-Throttle"
By Anne Cutter Mikkelsen and Eduard Alden Mikkelsen
Non-fiction, 264 pages
Paperback ISBN 978-0-983198222; ebook ISBN 978-0-983198215
Willow Island Press (2012)
Available at http://www.annecuttermikkelsen.com, Village Books in Fairhaven, Wa., and Country Bookshelf, Bozeman, Mt.
Take Charge of Parkinson's Disease: Dynamic Lifestye Changes to Put You in the Driver's Seat"
Named to "Top 20" List of Small Press Titles Most in Demand from Libraries and Bookstores (Library Journal, March 1, 2012).
By Anne Cutter Mikkelsen and Carolyn Stinson
ISBN 13: 978-0-9823219-3-5
A DiaMedica Publishing Guide to Optimum Wellness (2011)